Clarke, Graeme (2018) Land north of Greenpark Avenue, King's Lynn, Norfolk. [Client Report] (Unpublished)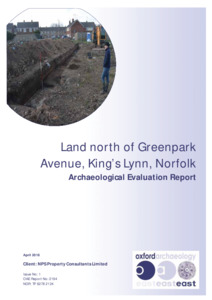 Preview
PDF




Report 2194_LR.pdf


Available under License Creative Commons Attribution Share Alike.
Download (5MB) | Preview
Abstract
Oxford Archaeology East carried out an archaeological evaluation between 15th and 23rd February 2018 at Land north of Greenpark Avenue, King's Lynn, Norfolk. This work was commissioned by NPS Property Consultants Ltd. The site comprised 3.8ha of undeveloped land, within the urban reach of King's Lynn, proposed for redevelopment as a primary school and associated grounds.
These works lie in a significant area of industrial archaeological remains relating to salt-making, during the later Saxon and medieval periods. This industrial landscape is currently being investigated by OA as part of a wider scope of works for the adjacent Lynnsport residential development by Lovell Partnerships Ltd.
Topographical survey of the site along with NHER data indicated that the remains of six saltern mounds, resulting from salt-making activities (including NHER 27907 and 27909), partially or wholly lie within the bounds of the proposed development. The evaluation confirmed the presence of the salterns.
Two of these (Salterns 1 and 4) extended beyond the southern boundary of the site where they were previously excavated by OA in 2017 as part of the Lynnsport 4 and 5 developments. The remains of a further saltern (Saltern 7) were located wholly within the development. However, the remaining salterns (Salterns 5, 6 and 8) lay on the periphery of the site, where they extended beyond the proposed development area into neighbouring plots of land. As well as revealing waste deposits from the salt-making process constituting the
mounds, the evaluation also revealed the remains of broken-up brine boiling hearths and in-situ remains of clay-lined tanks. These remains are typical of the known later Saxon and medieval salt-making evidence previously excavated in
the area by OA East.
The evaluation also revealed a network of ditches across the lower lying areas of the site, probably representing drainage channels of either later medieval or post-medieval origin when the site would have comprised part of a landscape predominantly utilised for pasture. The later date for these drainage features was reinforced with the recovery from the fills of artefacts spanning both these
periods. However, the possibility remains the larger extant (unexcavated) channel observed to extend broadly north to south across the site (skirting Salterns 5 and 7) may delineate the path of a historical creek. In addition to these remains, there was evidence for recent truncation of the deposits comprising Saltern 1 in the southern part of the site, with associated dumps of saltern mound material found to overly the topsoil intermittently across the southern part of the site.
Item Type:
Client Report
Uncontrolled Keywords:
Norfolk, norfolk, King's Lynn, king's lynn, lynnsport, archaeological evaluation, arhaeological Evaluation, evaluation, Saltern, saltern, early medieval, Early medieval, Saxon, saxon, Late Saxon, late saxon, medieval, Medieval, salt making, waste, filtration, slag, hearth, brine boiling, tank, ditch, field system, post-medieval, post medieval, Post-medieval, Post Medieval, 2194, Report 2194, report 2194, OAE report 2194
Subjects:
Geographical Areas > English Counties > Norfolk
Period > UK Periods > Early Medieval 410 - 1066 AD
Period > UK Periods > Medieval 1066 - 1540 AD
Period > UK Periods > Post Medieval 1540 - 1901 AD
Divisions:
Oxford Archaeology East
Depositing User:

Hamilton

Date Deposited:
29 Jun 2018 10:24
Last Modified:
11 Jan 2019 09:39
URI:
http://eprints.oxfordarchaeology.com/id/eprint/3957
Actions (login required)