Moan, Patrick (2018) Early Roman settlement at land west of Hardwicke Fields, Haddenham, Cambridgeshire. [Client Report] (Unpublished)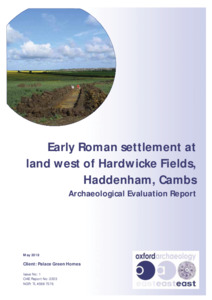 Preview
PDF




Report_2203_final_LR.pdf


Available under License Creative Commons Attribution Share Alike.
Download (5MB) | Preview
Abstract
Between the 23rd of April and the 6th of May 2018, Oxford Archaeology East (OAE) undertook a 14-trench evaluation, targeting geophysical anomalies identified within a parcel of land north of Hardwick Fields, Haddenham, Cambridgeshire (Fig. 1; TL 4598 7576). This phase of works was undertaken to assess the survival and character of archaeological remains and to aid in developing a mitigation strategy prior to development taking place.
The evaluation revealed a relatively well-preserved Latest Iron Age to Early Roman enclosure, with surviving midden material backfilled into the ditches along with a roundhouse drip gully, and a large pond-like feature, all recorded in the north-eastern and central third of the area. Outside of this enclosure, other archaeological remains of the period were rare, with only a single ditch in Trench 2 possibly being contemporary with the enclosure. Later features, in the form of medieval to post-medieval furrows, were identified across the site, surviving best within the western half.
A total of 1699g of pottery and 3915g of animal bone were recovered from the evaluation. The pottery ranged in date from the Latest Iron Age to Early Roman period, mostly from the latter period. No metalwork of significance was recovered from the trenching. Environmental remains were moderately well preserved, with occasional charred cereal grains such as emmer wheat and barley being recovered from the samples, particularly one sample taken from the enclosure ditch in Trench 8.
The results of the evaluation indicate that the geophysical survey was very successful, with archaeological remains being clearly identified within the trenching where expected. Two phases of ridge and furrow were identified within the trenches and geophysical survey and it would appear these furrows do not mask any earlier features.
Item Type:
Client Report
Uncontrolled Keywords:
archaeological evaluation, cambridgeshire, haddenham, iron age, roman, LIA, late iron age, ERB, early roman britain, romano-british, enclosure, midden, furrow, medieval, post-medieval, post medieval, pottery, animal remains, CPR, charred plant remains, grain, emmer wheat, geophysical survey, 2203, report 2203, OAE report 2203, roman pottery, medieval pottery, post-medieval pottery, ridge and furrow
Subjects:
Geographical Areas > English Counties > Cambridgeshire
Period > UK Periods > Iron Age 800 BC - 43 AD
Period > UK Periods > Iron Age 800 BC - 43 AD > Late Iron Age 100 BC - 43 AD
Period > UK Periods > Post Medieval 1540 - 1901 AD
Period > UK Periods > Roman 43 - 410 AD
Divisions:
Oxford Archaeology East
Depositing User:

Hamilton

Date Deposited:
11 Jul 2018 13:03
Last Modified:
29 Aug 2018 10:45
URI:
http://eprints.oxfordarchaeology.com/id/eprint/3994
Actions (login required)