Hoyland, Lesley (1991) Market Lane Linton 1991: An Archaeological Watching Brief July 1991. [Client Report] (Unpublished)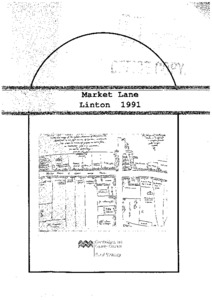 Preview
PDF




CCCAFU_report029.pdf


Available under License Creative Commons Attribution Share Alike.
Download (5MB) | Preview
Abstract
A watching brief of Market Lane, Linton, was undertaken in July 1991 by the Archaeological Section of Cambridgeshire County council, in order to assess the potential remains of medieval and Post-medieval remains relating to the former market held on the site.
Eleven trenches were opened by the contractors, each roughly 0.4m x 2m and 0.6 - 0.9m deep and sections were fully recorded and described.
Trenches 1-5 showed remains of building foundations, largely undatable due to the lack of finds in situ and previous wide-spread disturbance. Trenches 6-11 showed recent disturbance cut into natural subsoil.
Comparison with documentary sources show that the foundations revealed are probably those of structures shown on an 1823 Pre-enclosure map of Linton. No evidence was found of Medieval occupation.
Item Type:
Client Report
Uncontrolled Keywords:
Cambridgeshire, Linton, 1991, watching brief, Market Lane, market, medieval, stalls, shop, post-medieval, pottery, animal bone, inconclusive, gas main
Subjects:
Geographical Areas > English Counties > Cambridgeshire
Period > UK Periods > Medieval 1066 - 1540 AD
Period > UK Periods > Modern 1901 - present
Period > UK Periods > Post Medieval 1540 - 1901 AD
Depositing User:

Archives

Date Deposited:
25 Jul 2018 09:32
Last Modified:
21 Aug 2018 12:53
URI:
http://eprints.oxfordarchaeology.com/id/eprint/4005
Actions (login required)