Malim, Tim The Sconce, March Civil War Fortifications. [Client Report] (Unpublished)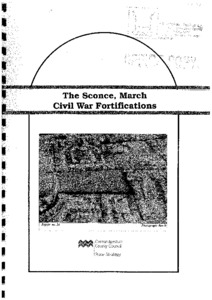 Preview
PDF




CCCAFU_report034.pdf


Available under License Creative Commons Attribution Share Alike.
Download (6MB) | Preview
Abstract
Civil War fortifications at Cavalry Barn with archaeological fieldwork showing that the occupation of the March island extends into Palaeolithic times.
There are earthworks that date back to the Medieval period with the expansion of housing going into the Civil War.
Civil war fortifications that were likely designed by unskilled workers who did not understand the complexities of contemporary military engineering but was nonetheless used as a defensive structure.
Item Type:
Client Report
Uncontrolled Keywords:
Civil War, Royal Commission on Historical Monuments, Cambridge, March island, Cherry Holt, Benwick, Wimblington, Stonea, Saxons, Sconce, Medieval, Post-medieval, Fort, Bastions, Eastwood Avenue, Boulder clay, Cambridgeshire County Council, Plane-table survey, Ordinance Survey map, Domesday, Palaeolithic, Mesolithic, Flint, Bronze Age, Iron Age, Roman settlement, Hamlet, Doddington, Earthworks, Ridge and Furrow, Military, V-shaped ditch, Aerial photograph, Defensive ditch, Communication trench, Cannons, Battery Hills, Cavalry Barn, River Nene
Subjects:
Geographical Areas > English Counties > Cambridgeshire
Period > UK Periods > Bronze Age 2500 - 700 BC
Period > UK Periods > Iron Age 800 BC - 43 AD
Period > UK Periods > Medieval 1066 - 1540 AD
Period > UK Periods > Mesolithic 10,000 - 4,000 BC
Period > UK Periods > Palaeolithic 500 000 - 10 000 BC
Period > UK Periods > Post Medieval 1540 - 1901 AD
Depositing User:

Archives

Date Deposited:
27 Jul 2018 12:47
Last Modified:
27 Jul 2018 12:47
URI:
http://eprints.oxfordarchaeology.com/id/eprint/4011
Actions (login required)