Watson, Kit The Medieval Kiln Site Old Church Lane, Colne, 1992: An Archaeological Assessment. [Client Report] (Unpublished)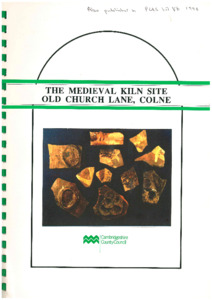 Preview
PDF




CCCAFU_report041.pdf


Available under License Creative Commons Attribution Share Alike.
Download (18MB) | Preview
Abstract
An archaeological assessment, carried out at Old Church Lane, Colne in December 1991 by the Archaeology Section of the Cambridgeshire County Council on behalf of Messrs. T.H.N & B.Bluff.
Trenching represented a 2.8% sample which demonstrates the existence of a kiln site, possibly dating to the 13th and 16th centuries on the west boundary of the proposed development area.
It is suggested that this represents the eastern edge of an industrial area first reported in 1921 from the neighbouring properties. Other features in the south, east and north of the site were interpreted as recent disturbances associated with the farmyard and jam factory. It is possible that this disturbance has already obliterated features of an earlier date on the South-west margin of the site.
In the light of the importance of an unploughed Medieval kiln site within Cambridgeshire the issues of preservation or total excavation are discussed.
Item Type:
Client Report
Uncontrolled Keywords:
Cambridge, Archaeological Assessment, Excavation, Kiln, Pot sherd, Colne, Trenching, Medieval, Village, Early Post-Medieval, Moated site, Geology, Topography, Boulder clay, Ampthill clay, Fen peats, Gravel terrace, Pottery, Context, Trench, Mortar fragment, Brick and mortar wall, Substantial depression, Natural subsoil, Saxo-Norman, Ceramic, Fabric, Jugs, Pipkins, Jars, Tempered Ware, Cambridgeshire County Council, Ordinance survey, Enclosure, subsoil, Stratigraphical diagram, Moat
Subjects:
Geographical Areas > English Counties > Cambridgeshire
Period > UK Periods > Medieval 1066 - 1540 AD
Period > UK Periods > Post Medieval 1540 - 1901 AD
Depositing User:

Archives

Date Deposited:
27 Jul 2018 13:07
Last Modified:
27 Jul 2018 13:07
URI:
http://eprints.oxfordarchaeology.com/id/eprint/4018
Actions (login required)