Watson, Kit (1992) Longstanton to Bluntisham Pipeline 1991: An Archaeological Assessment. [Client Report] (Unpublished)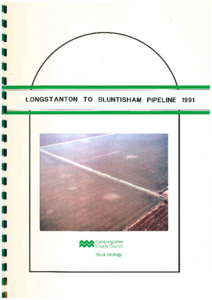 Preview
PDF




CCCAFU_report043.pdf


Available under License Creative Commons Attribution Share Alike.
Download (10MB) | Preview
Abstract
In 1991 a watching brief was carried out on a pipeline between Lonstanton and Bluntisham. Despite operational difficulties the work showed that the area was high in archaeological potential.
While the pipe passed close to several known sites it did in fact have a recognisable impact on only one. A watching brief and some limited excavation work demonstrated the continuation of the Roman settlement at Barleycroft Farm Quarry into the easement of the pipeline.
In addition, it was possible to adopt a route for part of the pipeline which would avoid the nationally important archaeological site of the Over Barrow group.
In the light of results from the archaeological work on the pipeline, recommendations on the planning and completion of archaeological work on similar projects have been made.
Item Type:
Client Report
Uncontrolled Keywords:
Longstanton, Bluntisham, Cambridgeshire, 1991, archaeological assessment, watching brief, excavation, Roman, Barleycroft Farm, Over Barrow, inspection of back-fill, desktop evaluation, post-medieval ditch, ridge and furrow, soilmark, cropmark, Roman kiln, Roman coin hoard, iron age pottery, medieval pottery, Bronze Age chain, Iron Age Chain, Roman Chains, flint, Anglo-Saxon bead, posthole, pottery, early Saxon, archaeological potential, archaeologically sensitive, bronze age burial mound, prehistoric, ring ditch, Anglo-Saxon, Anglo-Saxon pottery, 43, report 43, cccafu report 43, CCCAFU report 43, early medieval
Subjects:
Geographical Areas > English Counties > Cambridgeshire
Period > UK Periods > Bronze Age 2500 - 700 BC
Period > UK Periods > Early Medieval 410 - 1066 AD
Period > UK Periods > Iron Age 800 BC - 43 AD
Period > UK Periods > Mesolithic 10,000 - 4,000 BC
Period > UK Periods > Neolithic 4000 - 2200 BC
Period > UK Periods > Palaeolithic 500 000 - 10 000 BC
Period > UK Periods > Roman 43 - 410 AD
Depositing User:

Archives

Date Deposited:
31 Jul 2018 14:52
Last Modified:
11 Sep 2018 07:23
URI:
http://eprints.oxfordarchaeology.com/id/eprint/4020
Actions (login required)