Kemp, Steve and Way, Twigs Medieval Village & Deer Park of Childerley. Boxworth to Childerley Pipeline. [Client Report] (Unpublished)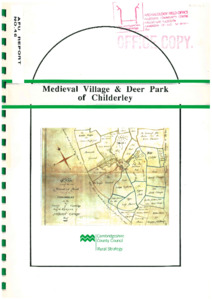 Preview
PDF




CCCAFU_report046.pdf


Available under License Creative Commons Attribution Share Alike.
Download (15MB) | Preview
Abstract
During the Autumn of 1991 an archaeological recording brief was undertaken by Cambridgeshire County Council Archaeology Section for Cambridge Water Company. The project involved the recording of a pipe-line running between High Barns in the parish of Boxworth and Grove Park in the parish of Childerley.
Two areas of disturbance were to be monitored; the deer park boundary on the parish border, and the ploughed site of Little Childerley, a deserted mediaeval village at Grove Park.
The pipe trenching at the parish boundary went unrecorded. As there are no upstanding remains in this area the impact on this field monument is unknown. Two cobbled surfaces were found at Little Childerley. These are likely to represent trackways connected with the mediaeval and post-mediaeval communications network. In an infilled ditch wood was found to survive suggesting high potential for preservation of water-logged remains within the sunken features of the village.
Historical information points towards a gradual reduction in the population of the Childerley villages prior to the abandonment of the settlements and the establishment of parkland. The deer park increased in size through the post-mediaeval period until it surrounded the hall and covered over 250 acres at its heights, prior to recent contractions.
Item Type:
Client Report
Uncontrolled Keywords:
Boxworth, Childerley, Cambridgeshire, 1991, archaeological recording brief, High Barns, Grove Park, deer park, Little Childerley, trackway, communication network, double ditch and bank, medieval fishpond, medieval moat, medieval garden, sixteenth century, stone coffin, Childerley Hall, Great Childerley, Sir John Cutts, boundary earthworks, drainage ditch, cobbled surface, cobbles, wood, bone, post-medieval, road, pottery, animal bone, copper pin, Saxo-Norman, bone, WWII air plane crash site, windmill, 13th century church, steam plough, DMV, park pale, deserted medieval village, waterlogged wood, medieval, post-medieval, post medieval
Subjects:
Geographical Areas > English Counties > Cambridgeshire
Period > UK Periods > Medieval 1066 - 1540 AD
Period > UK Periods > Post Medieval 1540 - 1901 AD
Depositing User:

Archives

Date Deposited:
01 Aug 2018 11:05
Last Modified:
01 Aug 2018 11:05
URI:
http://eprints.oxfordarchaeology.com/id/eprint/4022
Actions (login required)