Hoyland, Lesley and Wait, Gerald Roman Burials at London Street, Godmanchester. [Client Report] (Unpublished)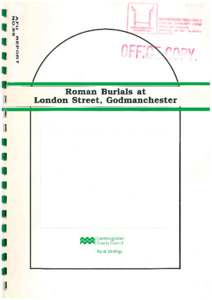 Preview
PDF




CCCAFU_report055.pdf


Available under License Creative Commons Attribution Share Alike.
Download (17MB) | Preview
Abstract
Following the discovery of human bones during development in London Street, emergency excavations revealed 13 human skeletons, other miscellaneous bones, 2 ditches, 2 pits, several unexcavated features and large quantities of unabraded Roman pottery.
The burials were strikingly regular; each one was equally spaced in rows, buried in quite deeply cut graves and oriented west-east. Three of the bodies had originally lain in nailed coffins.
Interesting pathological data derived from studying these bones include indications of leprosy, dental problems, arthritis and child-birth trauma.
The only artefact noted as possibly being a grave-good was one coin, but a bronze bangle and iron knife which occurred as stray finds probably accompanied the burials originally.
Many other features were noted in house-foundations, but were not examined further.
The indications are, therefore, that at different times during the Roman period this site, lying as it did on a major road leading to the town, was used both for settlement and as a cemetery.
Item Type:
Client Report
Uncontrolled Keywords:
London Road, Godmanchester, Cambridgeshire, Roman, Roman burials, emergency excavation, inhumation, cremation, human skeletons, bones, ditch, pit, pottery, grave, pathological data, grave-goods, coin, bangle, iron knife, Roman settlement, Roman cemetery, 1991, dental caries, leprosy, arthritis, watching brief, butt-end, post-medieval pottery, shell, oyster, grey ware pottery, iron nail, radiate, boundary ditch, 2nd century, 3rd century, 4th century, Gaulish Samian, flanged bowl, folded beaker, plain-rimmed dish, shallow wall-sided reeded dish, cornice-rimmed beaker, Hadham red ware, Cinnamus at Lezoux, flared neck jar, grooved rim jar, bowls, Nene valley ware, buff ware, carinated reeded bowl
Subjects:
Geographical Areas > English Counties > Cambridgeshire
Period > UK Periods > Post Medieval 1540 - 1901 AD
Period > UK Periods > Roman 43 - 410 AD
Depositing User:

Archives

Date Deposited:
07 Aug 2018 13:29
Last Modified:
07 Aug 2018 13:29
URI:
http://eprints.oxfordarchaeology.com/id/eprint/4035
Actions (login required)