Reynolds, Tim A Buried Prehistoric Landscape at Barnack. [Client Report] (Unpublished)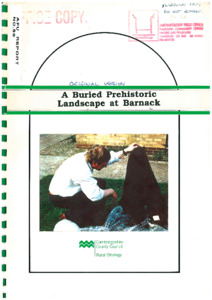 Preview
PDF




CCCAFU_report058.pdf


Available under License Creative Commons Attribution Share Alike.
Download (53MB) | Preview
Abstract
An archaeological evaluation was conducted at Barnack, Cambridgeshire by Cambridgeshire County Council Archaeology Section in an area rich in cropmarks and near the site of the Barnack Man Bronze Age burial. Augering and field walking were conducted and test pits were dug, along with a series of seventeen trenches. A rich series of agricultural and ritual features were identified including a hengiform monument. Rinf-ditches and a late Iron Age/Roman trackway. The most important discovery was the recognition of an extensive late Iron Age/Roman ploughsoil over much of the area.
The features are sealed by a Post-Roman alluvium and so well preserved and a river channel in the east of the sire yielded peat including waterlogged wood (radiocarbon dated to 15 AD) and clay which will allow environmental research to support the stud of the the archaeological agricultural and ritual landscapes.
One particular feature in the section of the present quarry, yielded three human burials which have been radiocarbon dated to the Bronze Age, 1908 BC.
Item Type:
Client Report
Uncontrolled Keywords:
Barnack, Cambridgeshire, Cropmarks, Ordinance survey, Quarry section, Late Iron Age, Roman, Alluvium, Geology, Topography, Quarry, Excavation, Radiocarbon dating, Desk-top study, Excavation, Topsoil, Subsoil, Ploughsoil, Field assessment, Cambridge County Council Archaeology Section, Limestone, Flint, Ironstone, Alluvial sand, Silt, Clay, Gravel, Trench, Plan, Neolithic, Anglo-Saxon, Medieval, Church, Burghley estate, Enclosure, Pit, Parallel linear features, Ring-ditch, Roman Villa, Round barrow, Burial, Flint blade, Field walking, Ridge and furrow, Bronze Age, Grave gods, Wrist guard, Pendant, Bead, Basilica, Mesolithic, Hearth, Fengate, Geophysical survey, Auger survey, Magnetometer survey, Machine excavated, Animal bone, Sherds, Human bone, Nene Valley, Samian ware, Metal detectors, Context, Trenching, Artefacts, Prehistory, Deposits, Oak branches, Trunk, Oak Tree, Pottery, Hengiform monument, Charcoal, Stratigraphy, Posthole, Undulation, Depression, Cursus, Pit alignment, Fluxgate Gradiometer, Resistance Meter
Subjects:
Geographical Areas > English Counties > Cambridgeshire
Period > UK Periods > Bronze Age 2500 - 700 BC
Period > UK Periods > Iron Age 800 BC - 43 AD > Late Iron Age 100 BC - 43 AD
Period > UK Periods > Medieval 1066 - 1540 AD
Period > UK Periods > Neolithic 4000 - 2200 BC
Period > UK Periods > Roman 43 - 410 AD
Depositing User:

Archives

Date Deposited:
07 Aug 2018 13:31
Last Modified:
07 Aug 2018 13:31
URI:
http://eprints.oxfordarchaeology.com/id/eprint/4036
Actions (login required)