Pelling, Ruth and Leith, Stephanie A1 Widening Scheme - 1992 Alconbury - Fletton Parkway. [Client Report] (Unpublished)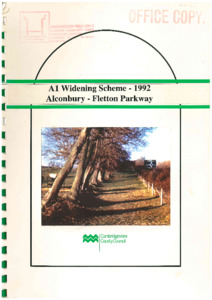 Preview
PDF




CCCAFU_report064.pdf


Available under License Creative Commons Attribution Share Alike.
Download (31MB) | Preview
Abstract
During the period April to August 1992 Cambridgeshire County Council Archaeology Section carried out an archaeological survey along the length of the A1 from Alconbury to Fletton Parkway. The work was undertaken on behalf of Transportation Department of Cambridgeshire County Council prior to the Department of Transport's widening of the roadway. This survey was conducted following recommendations made by D. Shotliff after a preliminary survey in January 1991.
The survey strategy included: a survey of all upstanding earthworks and cropmarks, fieldwalking, geophysical survey, and consultation of historical records and the County Sites and Monuments Record. Trial trenching and excavation that had been recommended for certain sites was not included in the brief for the present phase of works, but will be necessary before construction begins.
This part of the A1 follows the line of Ermine Street, a major Roman highway, and as a result the survey area is one of intense Roman and medieval activity. Roman sites are mostly represented by scatters of artefacts, varying from isolated finds to large concentrations suggesting buried buildings. Medieval ridge and furrow field systems are the most common type of earthworks in the survey area, and there are two shrunken medieval villages. Prehistoric and post-medieval sites are represented by scatters of artefacts and cropmarks, and earthwork remains of a Civil War gun emplacement.
The survey has brought to light many sites of archaeological importance. Certain sites must be preserved at all costs, including four scheduled ancient monuments. Three sites have been recommended for trial: Alconbury Hill where Roman buildings are suggested by surface finds, Tort Hill north of Sawtry, and an area around Norman Cross where field systems and a hollow way survive as earthworks. Sites of archaeological potential must be monitored closely during the roadworks, and Conington Bridge over Sawtry brook must removed with adequate recording undertaken by archaeologists.
Item Type:
Client Report
Uncontrolled Keywords:
A1 widening scheme, 1992, Alconbury, Fletton Parkway, Cambridgeshire, archaeological survey, trial trenching, Ermine street, medieval ridge and furrow, shrunken medieval villages, prehistoric, post-medieval, Civil War gun emplacement, Alconbury Hill, Tort Hill, Norman Cross, Conington Bridge, Archer's Wood, cropmarks, moated settlement, Alconbury, post-medieval gallows, Matcham's Gibbet, Roman pottery, Roman pit, Roman buildings, opus signinum, iron age quern, Roman coin, coin of Faustina II, 18th century milestone, earthworks, Roman urns, silver coin of Julius Caesar, moat, St Andrew's church, Roman coffins, earthen mounds, ring ditch, post-medieval quarry, Folksworth, Roman farmstead, finds scatter
Subjects:
Geographical Areas > English Counties > Cambridgeshire
Period > UK Periods > Bronze Age 2500 - 700 BC
Period > UK Periods > Iron Age 800 BC - 43 AD
Period > UK Periods > Medieval 1066 - 1540 AD
Period > UK Periods > Post Medieval 1540 - 1901 AD
Period > UK Periods > Roman 43 - 410 AD
Depositing User:

Archives

Date Deposited:
07 Aug 2018 13:45
Last Modified:
07 Aug 2018 13:45
URI:
http://eprints.oxfordarchaeology.com/id/eprint/4040
Actions (login required)