Bray, Simon Saxon and Medieval Features at Little Linton Farm, 1992. [Client Report] (Unpublished)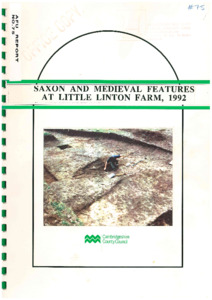 Preview
PDF




CCCAFU_Report75.pdf


Available under License Creative Commons Attribution Share Alike.
Download (13MB) | Preview
Abstract
During May and June 1992 a phased evaluation was completed by Cambridge Archaeology at Little Linton Farm.
Phase 1 revealed no ancient features. In Phase II of the recording works , 11 archaeological features were recorded. Two substantial Early-Saxon opposed deep ditch terminals, two shallow early-medieval east/west gullies, six post-holes and a horse burial of uncertain date.
The archive is deposited with the Cambridgeshire County Council Archaeology Section. The finds will be located with the Landowner, Mr Taylor, Snr, at Little Linton farmhouse.
Item Type:
Client Report
Uncontrolled Keywords:
Little Linton Farm, little linton farm, cambridgeshire, Cambridgeshire, Saxon, saxon, early medieval, Early Medieval, Medieval, medieval, horse burial, animal burial, animal remains, animal bone, articulated animal remains, Early Saxon, early saxon, Linton, linton, Anglo-Saxon, anglo-saxon, ditch terminal, ditch, gully, report 75, Report 75, CCCAFU report 75
Subjects:
Geographical Areas > English Counties > Cambridgeshire
Period > UK Periods > Early Medieval 410 - 1066 AD
Period > UK Periods > Medieval 1066 - 1540 AD
Depositing User:

Archives

Date Deposited:
07 Aug 2018 14:30
Last Modified:
02 Nov 2018 20:48
URI:
http://eprints.oxfordarchaeology.com/id/eprint/4050
Actions (login required)