Kemp, Steve Cambridge Southern Relief Road Archaeological Field Evaluation. [Client Report] (Unpublished)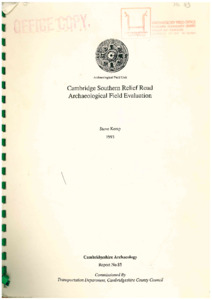 Preview
PDF




CCCAFU_Report85.pdf


Available under License Creative Commons Attribution Share Alike.
Download (29MB) | Preview
Abstract
Four areas were evaluated as part of the field assessment for the proposed Cambridge Southern Relief Road on behalf of Cambridgeshire County Council Transportation Department. These are located to the east of Shelford Road and south of New Addenbrooke's Hospital within the Wards of Trumpington and Cherry Hinton, Cambridge.
Site evaluation occurred during February and March 1993. The trenching strategy was based on crop mark plots prepared by Air Photo Services. Limited surface collection of finds occurred in the immediate vicinity of the sites.
No occupation areas were recognised. Though very little prehistoric material was found in the region the site of New Addenbrooke Hospital and the prominence of the Iron Age hill forts of Wandlebury and War Ditches suggests that such communities were active in the region. These lands are likely to have formed part of their agricultural system. A concentration of Roman pottery was evident at Site 3, the abraded nature of these finds and their occurrence in Roman and medieval drainage and boundary ditches indicates a residual element to the assemblage. The activity centre producing these finds was not recognised during the course of this field evaluation, but may be the cropmark complex shown on the lower slopes of White Hill. Ditching appears to have been the main archaeologically recognisable activity throughout the area. The majority of features appear to be associated with maintenance or development of the agricultural system, particularly drainage during the Roman and medieval periods. Environmental evidence indicates the success of these operations which resulted in alterations to the hydrological system and the reclamation of 'moor' lands indicated by medieval field names.
Item Type:
Client Report
Uncontrolled Keywords:
Cambridgeshire, Cambridge Southern Relief Road, Cambridgeshire County Council, Site evaluation, Iron Age, War Ditches, Roman, Medieval, Pottery, Environmental, Trenching, Monument, Desk-based study, Borrow pits, Construction camps, Site Location Plan, Geology, Topography, Trumpington, Fulbourn, Shelford Road, Hobson Brook, New Addenbrooke, Hillforts, Fieldwalking, Aerial Photographs, Topsoil, Chalk, Ordinance Survey, Animal bones, Ditch, Flint, Palaeo-river channel, Soil preservation, Marls, Gravel, Primary Sources, Secondary Sources, Great Shelford, Grantchester, Post-Medieval, Recording brief,
Subjects:
Geographical Areas > English Counties > Cambridgeshire
Period > UK Periods > Iron Age 800 BC - 43 AD
Period > UK Periods > Medieval 1066 - 1540 AD
Period > UK Periods > Roman 43 - 410 AD
Depositing User:

Archives

Date Deposited:
25 Jul 2018 09:59
Last Modified:
25 Jul 2018 09:59
URI:
http://eprints.oxfordarchaeology.com/id/eprint/4063
Actions (login required)