Kemp, Steve and Way, Twigs Roman and Medieval Routeways along the Comberton Eversden pipeline. [Client Report] (Unpublished)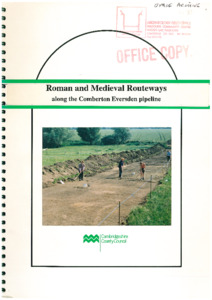 Preview
PDF




CCCAFU_Report93.pdf


Available under License Creative Commons Attribution Share Alike.
Download (37MB) | Preview
Abstract
Monitoring of the Cambridge Water Company pipeline between Comberton and the Eversden Reservoir was carried out by the Archaeological Field Unit, Cambridgeshire County Council. The pipeline passed through three main areas of archaeological interest; Foxs Bridge, Comberton; land adjacent to the moated site of Little Eversden; land adjacent to Sing Close, Great Eversden. Other areas were also monitored due to the proximity of the route to artefact scatters and crop marks recorded on the Cambridgeshire County Councils Sites and Monuments Record.
Archaeological remains were only recovered from the Roman villa site of Foxs Bridge, where a number of ditches were recognised. these had largely been distributed by root action. A combination of historical documentation and archaeology, in the form of earthworks, give evidence of extensive quarrying along the Bourn Brook and this appears to have removed any remaining traces of the villa complex. It is recorded that extraction was for the maintenance of roadways within the parish, pottery and coinage from the excavation indicates occupation from the late 1st century AD to the late 4th/ early 5th centuries.
Results from the other two sites indicated an absence of archaeological remains. Pottery found close to the moated site of Little Eversden is likely to result from the cleaning out of the moat removing leaf litter etc. Historical research based on Sing Close suggests that this wooded enclosure was formed during the early 1800s following enclosure of the field systems.
Archaeological remains were not seen over rest of the route, however the standard of stripping over 7km of pipeline was not always of a depth and clarity normally required by archaeologists, this may have hindered the recognition of archaeological features. However, consultation of historical documents as part of this project highlights the wealth of data surviving for this area and shows the potential for reconstructing the main elements of Medieval and post-Medieval landscapes.
Item Type:
Client Report
Uncontrolled Keywords:
Roman Villa, pottery, route ways, communication network, Enclosure, Comberton Eversden pipeline, Cambridgeshire, Great Eversden, Little Eversden, Comberton, moated site, monitoring, cropmarks, Bourn Brook, quarrying, coin, wooded enclosure, enclosure act, field system, historical documentation
Subjects:
Geographical Areas > English Counties > Cambridgeshire
Period > UK Periods > Post Medieval 1540 - 1901 AD
Period > UK Periods > Roman 43 - 410 AD
Depositing User:

Archives

Date Deposited:
10 Aug 2018 14:18
Last Modified:
10 Aug 2018 14:18
URI:
http://eprints.oxfordarchaeology.com/id/eprint/4071
Actions (login required)