Bray, Simon Borough Hill Enclosure, Sawston: An Archaeological Watching Brief. [Client Report] (Unpublished)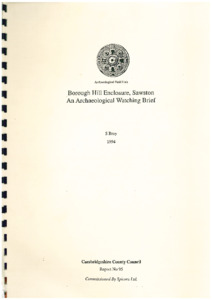 Preview
PDF




CCCAFU_Report95.pdf


Available under License Creative Commons Attribution Share Alike.
Download (37MB) | Preview
Abstract
In December 1993, the Archaeological Field Unit of Cambridge County Council completed a watching brief on behalf of Spicers Ltd during the construction of a pipeline for computer ducting. Part of the route of the pipeline crossed the site of an Iron Age hillfort (TL4717/4948).
The work demonstrated the survival of the bank and ditch of the hillfort with a preserved buried soil beneath the bank. It has shown the position of the bank to be on a slightly different alignment to the surviving earthwork as a result of soil creep outwards and downslope from the bank. Inside the hillfort a thick silt layer was recorded, protecting any internal features from modern agricultural practices.
Further activity was identified outside the fort in the form of well-defined shallow ditch, and a square-cut pit or ditch.
In addition the work has allowed a comparison of various archaeological techniques: field walking, geophysical survey, analysis of aerial photographs and excavation. The techniques produced widely contrasting results, with no artefacts recorded during the field walking, the earthworks survey recorded a well defined bank which was later found to be artificial and a product of erosion of the original bank: The geophysical survey and aerial photographs clearly show the hillfort's outer defences and some evidence of internal activity. The work has therefore shown that whilst all non-intrusive methods of archaeological investigations need to be considered the results generated are affected by natural and man made changes and must be treated with caution. Excavation remains, to date, the best method of obtaining accurately defined and detailed result.
Item Type:
Client Report
Uncontrolled Keywords:
Watching Brief, Crop marks, Geophysical Survey, Iron Age Hillfort, Borough Hill Enclosure, Sawston, Roman, Ring ditch, aerial photograph, buried soil, earthworks, Cambridgeshire, bank, fieldwalking, field walking
Subjects:
Geographical Areas > English Counties > Cambridgeshire
Period > UK Periods > Early Medieval 410 - 1066 AD
Period > UK Periods > Iron Age 800 BC - 43 AD
Period > UK Periods > Roman 43 - 410 AD
Depositing User:

Archives

Date Deposited:
10 Aug 2018 14:32
Last Modified:
10 Aug 2018 14:32
URI:
http://eprints.oxfordarchaeology.com/id/eprint/4074
Actions (login required)