Spoerry, Paul (1994) Medieval and Later Occupation in Fowlmere: Features on The High Street frontage, and Adjacent to the Round Moat. [Client Report] (Unpublished)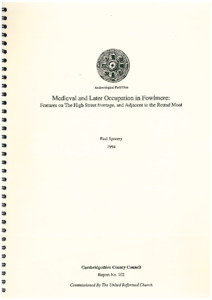 Preview
PDF




CCCAFU_report102.pdf


Available under License Creative Commons Attribution Share Alike.
Download (59MB) | Preview
Abstract
Trenches to investigate the archaeology were located on two property frontages on the south side of Fowlmere High Street, in areas adjacent to the Round Moat Scheduled Ancient Monument, and also between the features described.
Significant archaeological deposits, in the form of upcast from cleaning/re-cutting of the Round Moat ditch, sealing earlier occupation were identified on the North-eastern edge of the moat. The occupation is not dated and is represented by evidence for a timber construction with deposits within its plan. The structure is close to a water channel, as well as being rather low-lying. This suggests a water-use function, as there are few other reasons for building in such a location. On the south-east edge of the moat some upcast deposits were found but these were much less substantial and of limited archaeological interest.
Some medieval features were shown to survive on the High Street frontage, although substantial areas have been lost and/or truncated. The Archaeology that survives appears to be the base of features representing medieval village domestic life. To the rear of the frontage area a large chalk foundation or trackway is present.
The area between the Round Moat and the Brook appears to have experienced both standing water and stream activity. The 'canalisation' of the Brook line and the upcast around the Round Moat give the false impression that this area is Low-lying; however is was still probably a 'wet area' in antiquity, and thus would have constituted an effective barrier to the approach to the Round Moat from the east.
Item Type:
Client Report
Uncontrolled Keywords:
Cambridgeshire, Fowlmere, Medieval, Round Moat, Archaeological Evaluation, Scheduled Ancient Monument, SAM, scheduled monument, trackway, foundation, village, timber structure, settlement, water channel
Subjects:
Geographical Areas > English Counties > Cambridgeshire
Period > UK Periods > Medieval 1066 - 1540 AD
Depositing User:

Archives

Date Deposited:
13 Aug 2018 07:48
Last Modified:
17 Aug 2018 12:39
URI:
http://eprints.oxfordarchaeology.com/id/eprint/4084
Actions (login required)