Welsh, K. (1994) Iron Age and Roman Settlement Remains near Tort Hill, Sawtry. [Client Report] (Unpublished)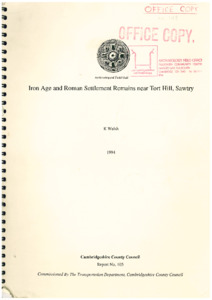 Preview
PDF




CCCAFU_report103.pdf


Available under License Creative Commons Attribution Share Alike.
Download (40MB) | Preview
Abstract
During November and December 1993, the Archaeological Field Unit of Cambridgeshire County Council undertook an archaeological assessment of land along the A1 trunk road, which follows the line of Roman Ermine Street, just to the north of Sawtry. The work was carried out on behalf of the Transportation department of Cambridgeshire County Council.
On the west side of the A1 (centred on TL 1720 8460), a small ditched enclosure and various pits and ditches were revealed, probably representing a farmstead. Pottery from some of these features indicate that settlement initially occurred in the period immediately before the Roman invasion of Britain in the first century AD, and possibly continued well into the Roman period.
To the east of the A1 (centred on TL 1720 8485), a large number of pits, ditches, and other features were recorded. These produced a large quantity of, mainly, second to fourth century Roman pottery, as well as iron objects, coins, and other domestic refuse. These deposits probably represent a peripheral area of a Roman roadside settlement, where activities such as rubbish disposal, and perhaps small scale industrial processing, took place.
Item Type:
Client Report
Uncontrolled Keywords:
Tort Hill, Sawtry, Cambridgeshire, Archaeological Evaluation, Iron Age, Roman, roman, Pottery, Coin, Farmstead, Ermine Street, roadside settlement, industrial processing, A1, Ermine Street, ermine street, pottery, pot, ceramic, sherd, vessel, settlement, Roman pottery, roman pottery, Iron Age, iron age, Late Iron Age, late iron age, Iron Age pottery, iron age pottery, Late Iron Age pottery, late iron age pottery, farmstead, enclosure, ditched enclosure, ditch, ditches, pit, pits, boundary ditch, drainage ditch, agriculture, rubbish, rubbish pit, refuse pit, 103, report 103, Report 103, CCCAFU report 103
Subjects:
Geographical Areas > English Counties > Cambridgeshire
Period > UK Periods > Iron Age 800 BC - 43 AD > Late Iron Age 100 BC - 43 AD
Period > UK Periods > Roman 43 - 410 AD
Depositing User:

Archives

Date Deposited:
13 Aug 2018 07:51
Last Modified:
23 Sep 2020 11:30
URI:
http://eprints.oxfordarchaeology.com/id/eprint/4086
Actions (login required)