Welsh, Ken (1994) The Still, Peterborough: Medieval Deposits behind Cumbergate and Westgate. [Client Report] (Unpublished)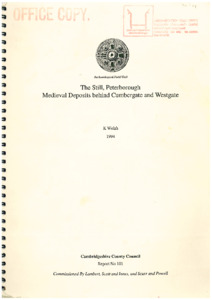 Preview
PDF




CCCAFU_Report 101.pdf


Available under License Creative Commons Attribution Share Alike.
Download (43MB) | Preview
Abstract
During April 1994, the Archaeological Field Unit of Cambridgeshire County Council undertook an archaeological assessment on land adjacent to The Still public house, Cumbergate, Peterborough (TL 1910 9880). The work was commissioned by Lambert, Scott and Innes. and Scurr and Powell, on behalf of their clients, as part of the planning process.
The site is close to the medieval core of Peterborough, and lies behind the street frontages of Westgate and Cumbergate. Initial historical research indicated that the area consisting of orchards and gardens in the post-medieval period, but specific references to Cumbergate were rare.
The assessment revealed, in the courtyard of The Still, a series of intercutting rubbish pits, containing pottery dating to the twelfth-fourteenth centuries. In the northern part of the site, behind the Westgate frontage, a large quarry pit was found. It contained pottery indicating that it was filled in the mid-late thirteenth century. Further medieval features had been dug into the top of this pit and date to the mid thirteenth-early fourteenth centuries. A stone lined cesspit, probably in use during the fifteenth century, was also recorded.
Further deposits recorded across the site, seem to confirm that the area was then given over to gardens and orchards. This situation persisted (although apparently as formal gardens in the nineteenth century) until the early years of this century when the adjacent arcade was built. The area now forms the garden of The Still and a service area for the Queensgate Centre.
Item Type:
Client Report
Uncontrolled Keywords:
Medieval deposits, Cambridgeshire, The Still, Peterborough, Medieval, Post-medieval, medieval pottery, Cesspit, quarry pit, rubbish pits, Westgate, Cumbergate, Stamford ware, St Neots ware, orchard, garden, stone-lined
Subjects:
Geographical Areas > English Counties > Cambridgeshire
Period > UK Periods > Early Medieval 410 - 1066 AD
Period > UK Periods > Medieval 1066 - 1540 AD
Depositing User:

Archives

Date Deposited:
13 Aug 2018 07:53
Last Modified:
17 Aug 2018 11:01
URI:
http://eprints.oxfordarchaeology.com/id/eprint/4087
Actions (login required)