Reynolds, Tim (1994) Iron Age/Romano British Settlement at Milton: An Archaeological Rescue Project. [Client Report] (Unpublished)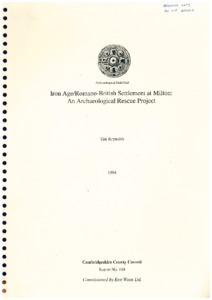 Preview
PDF




CCCAFU_report104.pdf


Available under License Creative Commons Attribution Share Alike.
Download (34MB) | Preview
Abstract
Planning permission has been granted for the expansion of waste pits by East Waste Ltd. at Milton (TL 465 625), subject to an archaeological watching brief being carried out. Preliminary visits to the site in April 1994 identified a series of Romano-British ditches rich in pottery, and resulted in the discovery of pond deposits also containing a significant quantity of Romano British material. These findings promoted a rescue project working from day to day over the period of a week, during which time evidence for the presence of a Roman Villa nearby was recovered, together with five phases of Roman activity. This area, recorded as MILEW 94 (I), has now been destroyed.
In June a second stage began on an adjacent pit MILDEW 94 (II), with three weeks allowed for archaeological investigations. A complex of late Iron Age and Romano-British features was discovered, which included the remains of three round houses, a mortuary enclosure with four possible cremations, numerous pits, potholes and ditches. This site will be destroyed during September 1994.
Analysis of environmental samples has produced preserved seeds, molluscs, beetles and waterlogged wood. Faunal preservation is also notable with many complete long bones being recovered from ditch fills. Pollen samples were also taken.
Expansion of the waste pits between autumn 1994 and summer 1995 is likely to affect a Roman Villa and further parts of the Iron Age settlement. A strategy for recording the threatened archaeology using 'preservation by record' is proposed.
Item Type:
Client Report
Uncontrolled Keywords:
Milton, Cambridgeshire, Iron Age, archaeological evaluation Romano-British, Roman, pottery, Roman Villa, Round House, mortuary enclosure, cremation, burial, pit, post hole, posthole, roundhouse, environmental sampling, pollen samples, molluscs, faunal remains, animal bone, ditch, pit, settlement, preservation in situ, landfill
Subjects:
Geographical Areas > English Counties > Cambridgeshire
Period > UK Periods > Iron Age 800 BC - 43 AD > Late Iron Age 100 BC - 43 AD
Period > UK Periods > Roman 43 - 410 AD
Depositing User:

Archives

Date Deposited:
13 Aug 2018 07:56
Last Modified:
17 Aug 2018 11:00
URI:
http://eprints.oxfordarchaeology.com/id/eprint/4088
Actions (login required)