Welsh, Ken (1994) Medieval and Later Deposits at Marshall's Garage, High Street, Huntingdon. [Client Report] (Unpublished)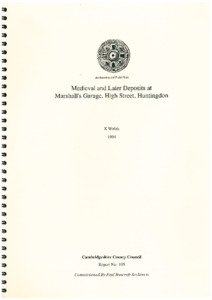 Preview
PDF




CCCAFU_report105.pdf


Available under License Creative Commons Attribution Share Alike.
Download (42MB) | Preview
Abstract
During December 1993, the Archaeological Field Unit at Cambridgeshire County Council undertook an assessment at Marshall's Garage, High Street, Huntingdon (TL 2406/7167). Three trenches were excavated, all of which revealed a variety of archaeological deposits. The earliest of these may date to before the Norman Conquest although this is by no means certain. A gravel surface, perhaps part of a yard, pits, and possible structural evidence were also revealed and appear to date to the thirteenth or fourteenth century.
The next period of activity recognised archaeologically was an apparently deliberate raising of the ground surface, perhaps to combat problems of flooding. Large quantities of clay and other materials, much of it burnt, were observed in all three trenches and may have been dumped there at the end of the medieval period.
Following this a cellared building was constructed on the High Street frontage, perhaps around 1500. This building may well be one of three inns mentioned in a document dating to 1575. It was probably partially demolished in the seventeenth century, when they were demolished in the seventeenth century. Evidence of a seventeenth century building, probably fronting onto Hartford Road, was also recorded. These buildings seem to have survived until the early nineteenth century, when they were demolished to make way for St Mary's vicarage. Wall footings belonging to the building having been demolished in the 1930s to widen the junction between the high street and Hartford Road.
The assessment showed widespread survival of medieval and post-medieval deposits, including structures and other occupation evidence. The deliberate dumping of material on the site, probably at the end of the medieval period, means that the earliest levels have only been partially disturbed by later building work, and the fact that much of the area remained open during the nineteenth and twentieth centuries has further protected the archaeology.
Item Type:
Client Report
Uncontrolled Keywords:
Cambridgeshire, huntingdon, archaeological evaluation, medieval, building, Norman Conquest, yard, surface, inn, post-medieval, post medieval, St Mary's vicarage, Hartford Road, demolition, levelling
Subjects:
Geographical Areas > English Counties > Cambridgeshire
Period > UK Periods > Medieval 1066 - 1540 AD
Period > UK Periods > Post Medieval 1540 - 1901 AD
Depositing User:

Archives

Date Deposited:
13 Aug 2018 07:59
Last Modified:
11 Jul 2023 12:46
URI:
http://eprints.oxfordarchaeology.com/id/eprint/4089
Actions (login required)