Rombinson, Ben (1994) Ely City Centre Redevelopment: An Archaeological Desktop Study. [Client Report] (Unpublished)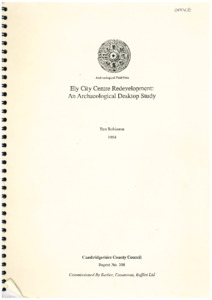 Preview
PDF




CCCAFU_report108.pdf


Available under License Creative Commons Attribution Share Alike.
Download (59MB) | Preview
Abstract
This study attempts to define the archaeological potential of an area within the historic core of the City of Ely (centred on TL 543/804) and thus to determine the potential impact of its proposed re-development. The subject area is bounded by Newham Street (to its west and North), Bray's Lane (to the east) and the Market Place (to the south). This study is largely based on existing sources. Two excavations have been carried out within the subject area in recent years and a number of documentary sources refer to medieval activity here. This evidence has been used to define an archaeological character model for the area.
The lighter soils on this part of fen 'highland' at Ely are known to have attracted settlement from the late Neolithic/early Bronze Age. Excavation has revealed agricultural and settlement remains of this period within the subject area. Evidence of earlier occupation is unlikely to be represented by anything other than residual artefacts in later deposits. During the late Iron Age, Romano-British and Saxon periods the area probably lay within field systems which supported settlement centres in the environs of the subject area.
Tenements were established in the southern half of the subject are (the Market Place) after the establishment of a large market area in the 12th of 13th century. These may have been preceded by tenements on Newham Street, which certainly contained important dwellings by the mid 13th century. The Market Place street front became heavily developed during the medieval period, probably comprising shops and trader's quarters. part of the interior of the subject area forms the grounds of Bray's manor, and was largely given over to gardens and orchards until this century.
Well-stratified archaeological deposits have been found in good states of preservation across the subject area, though good organic survival may be anticipated only in localised features such as wells. The archaeological deposits are probably most intense behind the Market Place properties.
The subject area has been shown to have excellent archaeological potential. It contains deposits and features crucial to the investigation of the origins and character of the medieval town of Ely, to the economy of its Fenland hinterland and to the study of English urbanism generally.
Item Type:
Client Report
Uncontrolled Keywords:
Ely, Cambridgeshire, Desktop Assessment, fen, neolithic, bronze age, medieval, DBA, desk-based assessment, Newham Street, Brays Lane, Market Place, settlement, tenements, Bray's manor, fenland hinterland, english urbanism
Subjects:
Geographical Areas > English Counties > Cambridgeshire
Period > UK Periods > Bronze Age 2500 - 700 BC
Period > UK Periods > Iron Age 800 BC - 43 AD
Period > UK Periods > Medieval 1066 - 1540 AD
Period > UK Periods > Modern 1901 - present
Period > UK Periods > Post Medieval 1540 - 1901 AD
Period > UK Periods > Roman 43 - 410 AD
Depositing User:

Archives

Date Deposited:
13 Aug 2018 08:05
Last Modified:
17 Aug 2018 09:19
URI:
http://eprints.oxfordarchaeology.com/id/eprint/4092
Actions (login required)