Holst, Malin and Welsh, Ken (1995) Roman Cremations and Field System at Weybridge Farm, Alconbury. [Client Report] (Unpublished)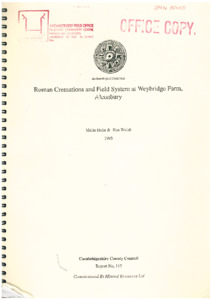 Preview
PDF




CCAFU_report115.pdf


Available under License Creative Commons Attribution Share Alike.
Download (80MB) | Preview
Abstract
In November 1994, the Archaeological Field Unit of Cambridgeshire County Council undertook an archaeological evaluation on a large field at Weybridge Farm, Alconbury, as part of a proposal for gravel extraction of the area.
The site lies immediately north of the new A14 and Ellington Brook and to the west of the A1, between the villages of Brampton, Ellington and Alconbury, and straddling the Alconbury-Ellington parish boundary which follows the sinuous course of a relict stream channel.
The evaluation revealed an area of Roman activity on a headland in the northern, central part of the site. This was expressed by the discovery of several small ditches containing Romano-British material and a cremation burial of the same period (possibly 3rd century). Although this particular part of the site is not actually threatened itself by gravel extraction, it is thought that heavy machinery driving over any archaeological deposits would greatly disturb or destroy this valuable evidence.
Very little archaeological evidence was found in the lower area which will be affected by the immediate extraction developments. These consisted mainly of relict stream channels which were present in most of the trenches and pre-dating the overlying early medieval alluvium.
Item Type:
Client Report
Uncontrolled Keywords:
Alconbury, Cambridgeshire, Weybridge farm, archaeological evaluation, Roman, cremation burial, cremation, HSR, human remains, Ellington, palaeochannel, relict stream channel, alluvium, early medieval, gravel extraction, pond. field boundary, parish boundary, the brook, antler, placed deposit, ditch, headland, burnt clay, pottery, hobnail, hobnails, pin, cremation vessel, child, adolescent, female, burnt animal bone, agriculture, grey ware, coarse ware, report 115
Subjects:
Geographical Areas > English Counties > Cambridgeshire
Period > UK Periods > Roman 43 - 410 AD
Depositing User:

Archives

Date Deposited:
14 Aug 2018 07:40
Last Modified:
17 Aug 2018 08:45
URI:
http://eprints.oxfordarchaeology.com/id/eprint/4102
Actions (login required)