Kenney, S. (1996) Roman and Later Trackways and Boundaries at 95/97 Low Road, Burwell: An archaeological Excavation. [Client Report] (Unpublished)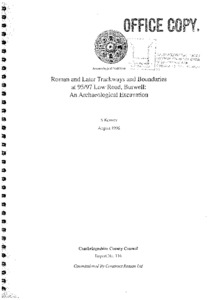 Preview
PDF




CCCAFU_Report116.pdf


Available under License Creative Commons Attribution Share Alike.
Download (7MB) | Preview
Abstract
In May and August 1995, the Archaeological Field Unit of Cambridgeshire County Council conducted two phases of archaeological investigations on land at Low Road, Burwell, Cambridgeshire (TL 5861/6682). The work was carried out on behalf of Construction Reason Ltd.
A high density of archaeological features was recorded at the eastern end of the site, dropping off rapidly to the west. The majority of these were possible palisade trenches or gullies, generally aligned north-south. A small number of linear features were found on an east-west alignment. None of the linear features seemed to form the outline of buildings. Several pits were also observed, and while it is not possible to ascribe them a definite function, it is certain that they were not for the disposal of domestic rubbish. A broad, shallow linear with a slight kink, running roughly N-S, has been identified as a Holloway, or sunken trackway. This may be the precursor to the path known as "The Leys", only a few metres to the east of the site.
Despite the concentration of archaeology, few finds were recovered, and thus dating the site is problematic. The assemblage consists largely of abraded Roman pottery, burnt flint, and some animal bone. A few Middle Iron Age sherds were the only non-Roman pottery recovered. Neither the pottery nor the flint could conclusively date the site, but it seems most likely that the features are late or post-Roman.
Item Type:
Client Report
Uncontrolled Keywords:
Roman, trenches, palisade trench, gully, pit, Trackway, sunken trackway, Roman pottery, post-Roman, Burwell, Roman Boundary, Cambridgeshire, holloway, burnt flint, animal bone, pottery, middle iron age, iron age, the Leys, archaeological excavation
Subjects:
Geographical Areas > English Counties > Cambridgeshire
Period > UK Periods > Early Medieval 410 - 1066 AD
Period > UK Periods > Iron Age 800 BC - 43 AD > Middle Iron Age 400 - 100 BC
Period > UK Periods > Roman 43 - 410 AD
Depositing User:

Archives

Date Deposited:
14 Aug 2018 13:15
Last Modified:
17 Aug 2018 08:26
URI:
http://eprints.oxfordarchaeology.com/id/eprint/4103
Actions (login required)