Leith, S. (1995) Lancaster Way Business Park, Ely: An Archaeological Desk-top Study. [Client Report] (Unpublished)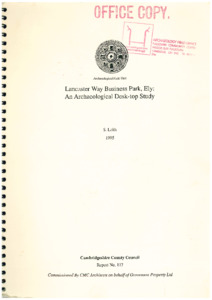 Preview
PDF




CCCAFU_report117.pdf


Available under License Creative Commons Attribution Share Alike.
Download (38MB) | Preview
Abstract
This study attempts to define the archaeological potential of land on the Lancaster Way Business Park, Ely (TL 515 785) and to determine the potential impact of development proposals. The site is located to the south-west of Ely, to the south of the A142 on part of the site of the WWII airfield. The study is largely based on existing sources, and the results of recent excavations in the vicinity.
The site's greatest potential lies in the large amounts of Roman pottery found on the site itself. This could also indicate a settlement of some significance.
The proximity of an Anglo-Saxon cemetery and a scatter of Saxon artefacts indicating a possible settlement could suggest further activity of this period within the study area. During the medieval period, the area was part of the common fields of Ely, and traces of ridge and furrow are visible as cropmarks.
The study area is on part of the WWII airfield and some wartime structures, including Nissen huts and other buildings, survive.
Item Type:
Client Report
Uncontrolled Keywords:
Ely, ely, cambridgeshire, Cambridgeshire, Archaeological Desk-top Study, Roman, Saxon, medieval, Modern, WWII, world war two, second world war, airfield, DBA, desk-based assessment, nissen hut, structure, 177, report 117, Report 117, CCCAFU report 117
Subjects:
Geographical Areas > English Counties > Cambridgeshire
Period > UK Periods > Early Medieval 410 - 1066 AD
Period > UK Periods > Medieval 1066 - 1540 AD
Period > UK Periods > Modern 1901 - present
Period > UK Periods > Roman 43 - 410 AD
Depositing User:

Archives

Date Deposited:
14 Aug 2018 13:17
Last Modified:
28 Feb 2020 15:33
URI:
http://eprints.oxfordarchaeology.com/id/eprint/4104
Actions (login required)