Roberts, Judith (1996) Iron Age Activity at Town Farm, Whaddon. [Client Report] (Unpublished)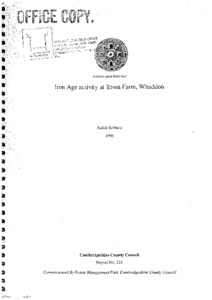 Preview
PDF




CCCAFU_Report121.pdf


Available under License Creative Commons Attribution Share Alike.
Download (4MB) | Preview
Abstract
Full excavation at Town Farm, Whaddon in September 1995 revealed two main periods of activity. Mesolithic/Neolithic flint tools and irregular features were discovered suggesting some presence on the site during this period. The other main phase of archaeological activity dated from the early Iron Age to early Roman period.
Occupation on the site ranges from the early Iron Age (with possible transitional late Bronze Age/early Iron Age presence) through a middle Iron Age phase to a late Iron Age/early Roman occupation which contains a few significant sherds of fine wares from one feature indicating the presence of a high status settlement in the vicinity. The site appears to represent land peripheral to a settlement and contains a series of steep sided rectangular pits. Cereal grains from some of these pits show that crop processing and other activities occurred in the vicinity but do not suggest a primary use of the pits for storage. Although no industrial debris was found to indicate the use of the pits in some industrial process large quantities of burnt flint were found which shows very high temperatures were achieved for some purpose. A domestic "oven" with clay lining, pierced shelf or floor and many burnt stones was also found. The site was divided during the Iron Age into two parts by a gully for a fence. That this division was in use for some time is shown by the re cutting of this feature. Eventually later Iron Age features cut the abandoned line of this fence.
No clear evidence for Saxon or medieval occupation of the area was discovered in spite of the evidence for at least eight medieval moated sites in the village and the suggestion that Whaddon had a middle Saxon common.
Item Type:
Client Report
Uncontrolled Keywords:
crop processing, Iron Age, Roman, Neolithic, Mesolithic, Whaddon, Flint tools, Multi period site, Iron age pits, Cambridgeshire, archaeological excavation, cereal grains, settlement, high status settlement, oven, clay lining, domestic, flint, worked flint, lithics, tools, fence, gully, report 121
Subjects:
Geographical Areas > English Counties > Cambridgeshire
Period > UK Periods > Iron Age 800 BC - 43 AD
Period > UK Periods > Mesolithic 10,000 - 4,000 BC
Period > UK Periods > Neolithic 4000 - 2200 BC
Period > UK Periods > Roman 43 - 410 AD
Depositing User:

Archives

Date Deposited:
20 Aug 2018 09:57
Last Modified:
20 Aug 2018 09:57
URI:
http://eprints.oxfordarchaeology.com/id/eprint/4110
Actions (login required)