Sutherland, Tim and Hatton, Andrew (1996) Medieval Features Outside the Town Defences at Swavensey: Archaeological Evaluation and Observation of Demolition at School Lane. [Client Report] (Unpublished)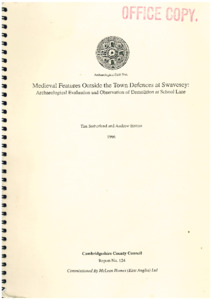 Preview
PDF




CCCAFU_report124.pdf


Available under License Creative Commons Attribution Share Alike.
Download (29MB) | Preview
Abstract
In July and September 1995 the Archaeological Field Unit (AFU) of Cambridgeshire County Council undertook two phases of an archaeological evaluation in advance of housing development at School Lane, Swavensey, Cambridgeshire (NGR TL 359/685). The work was commissioned by Mclean Homes (East Anglia) Ltd and carried out in accordance with a brief designed by the County Archaeology Office.
The site lies just outside the defences of the medieval town of Swavensey, which developed during the thirteenth century AD. Evaluation trenches on the present site, however, found no traces of medieval settlement. This evidence and nearby remains of medieval cultivation (ridge and furrow) suggest that the site consisted of fields throughout this period. However, deposits containing medieval pottery were found in the south-west corner of the site adjacent to School Lane itself and may be indicative of occupation in the immediate vicinity.
Later features on the site include the filled in remains of a large L-shaped pond, known to exist in 1887, but the purpose of which is uncertain.
Item Type:
Client Report
Uncontrolled Keywords:
Swavensey, Cambridgeshire, Archaeological Evaluation, Medieval, ridge and furrow, field system, agriculture, cultivation, pottery, pond, post-medieval, post medieval
Subjects:
Geographical Areas > English Counties > Cambridgeshire
Period > UK Periods > Medieval 1066 - 1540 AD
Period > UK Periods > Post Medieval 1540 - 1901 AD
Depositing User:

Archives

Date Deposited:
20 Aug 2018 13:41
Last Modified:
20 Aug 2018 13:41
URI:
http://eprints.oxfordarchaeology.com/id/eprint/4115
Actions (login required)