Oakey, N. (1996) Iron Age and Romano-British Field Systems at Highfields, Caldecote: An Archaeological Evaluation. [Client Report] (Unpublished)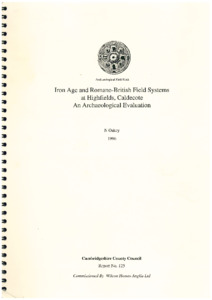 Preview
PDF




CCCAFU_report125.pdf


Available under License Creative Commons Attribution Share Alike.
Download (92MB) | Preview
Abstract
In April 1996 the Archaeological Field Unit of Cambridgeshire County Council carried out an archaeological evaluation of c20.5 hectares (in two discrete areas centred at TL 349 583 and TL 354 587) at Highfields, Caldecote. The work was carried out on behalf of Wilcon Homes Anglia Ltd in compliance with recommendations from the County Archaeology Office.
An appraisal of aerial photographs and historical documentary evidence showed that the evaluation areas, in common with most of the land around modern Highfields, had been subject to ridge-and-furrow ploughing in the medieval and later periods. This had totally masked any archaeological remains of earlier eras. Surviving earthworks of ridge-and-furrow were surveyed where they occurred within the evaluation area.
A programme of sample trenches revealed a possible ring ditch at the southern extremity of the investigated area, but it could not be established whether is was associated with a ploughed-out round burrow or a circular hut. Insufficient material was recovered from associated deposits to confidently date the ditch.
A field system was laid out on the heavy clay soil in the late Iron Age of early Romano-British period and was focussed on a settlement or farmstead (TL 354 587). The latter comprised a concentration of linear ditches of at least two phases, in close proximity to a possible ring ditch which contained much burnt daub. Other artefacts deriving from domestic and craft activities were recovered from the backfills of the ditch concentration.
Another field system centred at TL 349 583 was later in date and produced pottery of the 2nd to 4th centuries, i.e. after the Roman Conquest. The settlement associated with this system was probably located further north, on the site of the modern village. A large ditch running north/south may have acted as a major land division and drain, but its relationship to the rest of the field system was unclear.
Item Type:
Client Report
Uncontrolled Keywords:
Caldecote, Cambridgeshire, Archaeological Evaluation, Highfields, Field system, Iron age, Romano-British, ring ditch, ridge and furrow, ridge-and-furrow, earthworks, medieval, post-medieval, post medieval, ploughed out, burrow, settlement, farmstead, burnt daub, pottery, roman
Subjects:
Geographical Areas > English Counties > Cambridgeshire
Period > UK Periods > Iron Age 800 BC - 43 AD
Period > UK Periods > Medieval 1066 - 1540 AD
Period > UK Periods > Post Medieval 1540 - 1901 AD
Period > UK Periods > Roman 43 - 410 AD
Depositing User:

Archives

Date Deposited:
21 Aug 2018 08:43
Last Modified:
21 Aug 2018 08:43
URI:
http://eprints.oxfordarchaeology.com/id/eprint/4116
Actions (login required)