Macaulay, Stephen (1996) Late Saxon and Medieval Archaeology at Ramsey Abbey, Cambridgeshire: An Archaeological Evaluation. [Client Report] (Unpublished)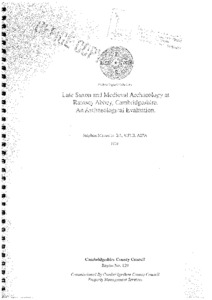 Preview
PDF




CCCAFU_report129_LR.pdf


Available under License Creative Commons Attribution Share Alike.
Download (3MB) | Preview
Abstract
An archaeological evaluation within the grounds of Ramsey Abbey School, Cambridgeshire (TL29258515) was undertaken between the 19th and 23rd of August 1996, by the Archaeological Field Unit (AFU) of Cambridgeshire County Council on behalf of the Property Management Services of Cambridgeshire County Council.
The evaluation proved conclusively that archaeological remains dating to the late Saxon and medieval periods survive within the proposed development area. Ten test pits we opened, six contained the remains of archaeology, while three could not be investigated due to the presence of modern service pipes/cables. It is worth noting that service trenches were recorded at depths ranging from 0.3m-0.7m. Archaeological deposits, in particular from the late Saxon period survive beneath these modern 20th century deposits. This was located adjacent to the present day tennis courts and was found to contain fen peat depositions.
The foundations of two walls were revealed (test pits 2 & 8), these had been partially robbed and were sealed by a demolition layer dating to the 16th century and perhaps to the Dissolution. These walls are thus likely to be part of the medieval Abbey complex. In addition a fully robbed wall/ditch (test pit 1) was also excavated, and again this contained demolitions material consistent with a Dissolution period date(16th C). This ditch contained a fragment of a floor tile likely to have been produced on-site in the Abbey's own tile kilns. Further to the north, medieval demolition and sealed deposits were recorded in test pits 3, 9 and 10. Finally, the remains of a late Saxon pit, infilled with building debris and a ditch were recorded in test pit 10. These features were sealed beneath the medieval/late Saxon layer recorded in test pits 3,9 and 10.
The evidence from the test pits shows that archaeological remains contemporary to the medieval Abbey survive and that earlier medieval/late Saxon deposits are present within the proposed development area and are likely to need consideration before the site is developed.
Item Type:
Client Report
Uncontrolled Keywords:
Ramsey Abbey, ramsey abbey, Cambridgeshire, cambridgeshire, Ramsey, ramsey, Archaeological Evaluation, archaeological evaluation, evaluation, late Saxon, saxon, Saxon, Medieval, medieval, wall, foundations, foundation, demolition layer, 16th century, Dissolution, tile, floor tile, tile kiln, test pit, pit, ditch, building debris, CBM, cbm, Ceramic Building Material, ceramic building material, early medieval, Early Medieval, 129, report 129, Report 129, CCCAFU report 129
Subjects:
Geographical Areas > English Counties > Cambridgeshire
Period > UK Periods > Early Medieval 410 - 1066 AD
Period > UK Periods > Medieval 1066 - 1540 AD
Depositing User:

Archives

Date Deposited:
21 Aug 2018 09:29
Last Modified:
09 Jan 2019 13:37
URI:
http://eprints.oxfordarchaeology.com/id/eprint/4122
Actions (login required)