Kemp, Steve (1997) Prehistoric, Roman and Medieval Landuse of Bardford Road, Eynesbury, St Neots. [Client Report] (Unpublished)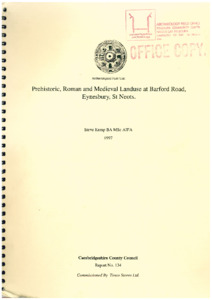 Preview
PDF




CCCAFU_report134.pdf


Available under License Creative Commons Attribution Share Alike.
Download (40MB) | Preview
Abstract
An archaeological evaluation was undertaken in 1993 at the Tesco's site of Barford Road, Eynesbury, St Neots which identified a series of prehistoric monuments related to a ritual landscape identified by aerial photograph. In 1994 excavations were designed to cover the major areas of disturbance to the archaeology which would result from the construction of a tesco's superstore, ancillary buildings and roundabout.
Evidence for Palaeolithic, Mesolithic and Neolithic activity in the development area was found to be absent, although artefacts from these periods have been found close by. Late Neolithic or Bronze Age remains identified during the earlier work proved to be spatially restricted, and apart from a single pit presumed to be associated with the monument identified in 1993. It has been shown that other Bronze Age remains do not extend into the development area. The absence of any occupation suggests that the interrupted ring ditch is a component of late Neolithic-Bronze Age ritual landscape preserved within the surrounding area.
A number of tree bole and root disturbance features were encountered on the site indicating that this area was once wooded. These features were observed to pre-date the archaeology indicating that the area may have been cleared in the early Neolithic.
A further group of archaeological features were discovered during these excavations which consisted of a series of ditches on three alignments. Two of these ditches are a continuation of the late Romano-British trackway identified in 1993 and visible on the aerial photographs. The other alignments, which are not visible on the aerial photographs, appear to pre-date the trackway and although no synchronous, probably represent field boundaries which evolve following the demise of the ritual landscape. These field boundaries may indicate the return of arable agriculture to the area following a long period of intermittent flooding. Evidence for medieval cultivation was gained from historical documents, aerial photographs and within the excavated trenches where the furrows of the cultivation strips cut into the Terrace Gravels.
Item Type:
Client Report
Uncontrolled Keywords:
prehistoric, Roman, Medieval, Eynesbury, Cambridgeshire, Archaeological Excavation, St Neots, trackway, ditch, alignment, field system, ritual landscape, flooding, intermittent flooding, field boundary, medieval, cultivation, written record, aerial survey, aerial photograph, arable agriculture, agriculture, ridge and furrow, terrace gravel, gravel terrace, pottery
Subjects:
Geographical Areas > English Counties > Cambridgeshire
Period > UK Periods > Bronze Age 2500 - 700 BC > Early Bronze Age 2500 - 1500 BC
Period > UK Periods > Neolithic 4000 - 2200 BC > Late Neolithic 2700 - 2200 BC
Period > UK Periods > Medieval 1066 - 1540 AD
Period > UK Periods > Roman 43 - 410 AD
Depositing User:

Archives

Date Deposited:
21 Aug 2018 12:00
Last Modified:
21 Aug 2018 12:00
URI:
http://eprints.oxfordarchaeology.com/id/eprint/4127
Actions (login required)