Connor, Aileen (1997) Late Neolithic, Bronze Age and Late Iron Age Occupation at Butt Lane Milton: A Training Excavation. [Client Report] (Unpublished)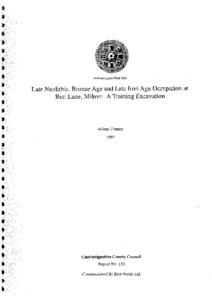 Preview
PDF




CCCAFU_report135.pdf


Available under License Creative Commons Attribution Share Alike.
Download (14MB) | Preview
Abstract
Area D at Milton Landfill Site was archaeologically excavated between 15th July and 23rd August 1996. The work was undertaken by trainees under the direction and supervision of Cambridgeshire County Council Archaeological Field Work Unit (AFU) staff.
The excavation was in two areas, areas D1 and D2, archaeological features were present in both areas, but the more southerly area D1 had a higher density of features.
The site was characterised by earthfast features representing small timber structures, a hearth, several pits, and working hollows and at least one cremation. Small quantities of pottery were recovered from a cremation and hearth dating possibly as early as the Early Bronze Age, although the pottery in the hearth is likely to be residual. The small flint assemblage is suggestive of a Late Neolithic/Early Bronze Age component, but appeared peripheral and may indicate greater activity beyond the area of excavation.
Bronze Age pottery dates a pit and nearby post hole on the northern area, but no other features could be conclusively attributed such a date.
The major component of the occupation is probably later Iron Age in date, and is interpreted as applying to all the post built structures, several pits and the hearth.
Item Type:
Client Report
Uncontrolled Keywords:
Late Neolithic, late neolithic, Neolithic, neolithic, Bronze Age, bronze age, Late Iron Age, late iron age, Iron Age, iron age, Butt Lane, Milton, milton, cambridgeshire, Cambridgeshire, Training, Excavation, excavation, archaeological excavation, training excavation, training, Hearth, hearth, cremation, cremated remains, Milton Landfill Site, pottery, Pottery, pot, ceramic, sherd, vessel, post built structure, pit, worked flint, lithics, lithic, lithic implement, lithic assemblage, flint assemblage, hollow, working hollows, timber structure, structure, Bronze Age pottery, bronze age pottery, Late Iron Age pottery, late iron age pottery, Iron Age pottery, iron age pottery, 135, report 135, Report 135, CCCAFU report 135
Subjects:
Geographical Areas > English Counties > Cambridgeshire
Period > UK Periods > Bronze Age 2500 - 700 BC
Period > UK Periods > Iron Age 800 BC - 43 AD
Period > UK Periods > Iron Age 800 BC - 43 AD > Late Iron Age 100 BC - 43 AD
Period > UK Periods > Neolithic 4000 - 2200 BC > Late Neolithic 2700 - 2200 BC
Period > UK Periods > Neolithic 4000 - 2200 BC
Depositing User:

Archives

Date Deposited:
28 Aug 2018 07:28
Last Modified:
01 Nov 2021 10:00
URI:
http://eprints.oxfordarchaeology.com/id/eprint/4129
Actions (login required)