Heawood, Richard (1997) Chesterton Park, Cambridge: An Archaeological Desktop Study. [Client Report] (Unpublished)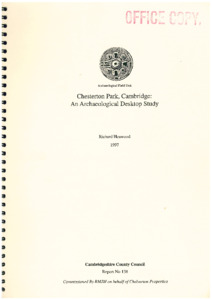 Preview
PDF




CCCAFU_report138.pdf


Available under License Creative Commons Attribution Share Alike.
Download (71MB) | Preview
Abstract
A archaeological desktop assessment of a large 90 hectare site on the north-east edge of the City of Cambridge was carried out by Cambridge County Council's Archaeological Field Unit in response to a brief from the County Archaeology Office. The study was commissioned by RMJM on behalf of Chelverton Properties in advance of the proposed redevelopment of the site. The study area, centred on TL 475/615, is at present occupied by Cambridge Sewage Treatment Works to the north, and by Chesterton Railway Sidings to the South.
The study area lies in a zone of high archaeological potential on the gravel terraces of the River Cam. The surrounding area is rich in sites from the prehistoric and Romano-British agricultural settlements extended along the west bank of the Cam to the North. Within the study area, it is known that human burials and pits containing animal bone and pottery were disturbed in 1903 during the extension of the Sewage Farm. This evidence suggests the existence of a late Iron Age and Romano-British settlement in the north-eastern corner of the study area. It has not proved possible to locate other specific areas of archaeological remains, but the high potential for the existence of such remains almost anywhere in the study area had been highlighted.
The impact of Twentieth Century disturbance on the survival of potential archaeological remains has also been assessed. The Sewage Treatment Works has had a considerable impact towards the west of the study area, whilst a back-filled gravel pit within the railway sidings would have completely removed archaeological remains where it was excavated. However, it can be suggested that the impact of the early Sewage Farm on the north-eastern part of the site was probably limited, and that archaeological remains would survive here beneath dumped deposits. This seems to be confirmed by data from geotechnical trial holes, which also indicate the presence of 'wet' deposits near to the Cam. elsewhere, remains might survive between and around the installations of the Sewage Treatment Works, and in the sidings, away from the gravel quarry.
Modern landuse means that aerial photography and geophysical survey are of very limited use in establishing the precise location of the archaeological remains that probably exist within the area. Trial trenching remains the best way of characterising these remains.
Item Type:
Client Report
Uncontrolled Keywords:
Chesterton Park, Cambridge, Cambridgeshire, Desktop study, Human Burials, pottery, Romano-british, Roman, Iron Age, DBA, desk-based assessment, report 138, Sewage Treatment Works, railway sidings, river cam, geotechnical trial holes, gravel terrace, wet deposits
Subjects:
Geographical Areas > English Counties > Cambridgeshire
Period > UK Periods > Iron Age 800 BC - 43 AD > Late Iron Age 100 BC - 43 AD
Period > UK Periods > Roman 43 - 410 AD
Depositing User:

Archives

Date Deposited:
20 Aug 2018 10:29
Last Modified:
20 Aug 2018 10:29
URI:
http://eprints.oxfordarchaeology.com/id/eprint/4132
Actions (login required)