Heawood, R. (1997) Romano-British Settlement Remains at the A1303 Newmarket Road/Airport Way Junction Improvement, Fen Ditton and Teversham: An Archaeological Excavation. [Client Report] (Unpublished)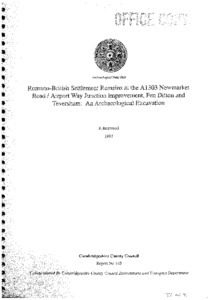 Preview
PDF




CCCAFU_report143_LR.pdf


Available under License Creative Commons Attribution Share Alike.
Download (13MB) | Preview
Abstract
Cambridgeshire County Council's Archaeological Field Unit conducted an evaluation in December 1996 on arable land adjacent to Airport Way in Fen Ditton and Teversham parishes (TL 4676/5909). The work, carried out for the County Council's Environment and Transport Department, followed a desktop study and geophysical survey by WS Atkins. The evaluation consisted of the opening of trenches by machine so that any archaeological features could be recorded and assessed before the realignment of the Airport Way road proceeded. Archaeological features were identified in several of the trenches, but the most significant were in Trench C. Here, in addition to two ditches, an oval pit was identified which contained an unusual concentration of Romano-British pottery. Two postholes and a shallow gully were thought likely to suggest the former presence of a timber structure or building.
On the basis of this evidence, the County Archaeological Office requested further investigation around trench C in February 1997, before roadworks began on this part of the route. An area measuring 21m x 13m was stripped of topsoil and subsoil by machine, and cleaned by hand so that the archaeological remains could be planned. Most of the remains were then investigated by selective excavation. Evidence was recovered for at least two timber structures, one of which was probably a building, a chalk platform, and for a number of ditches dating from at least three phases of activity. Many of these features contained late Roman Pottery, and in one posthole a small bronze coin was found minted during the reign of the emperor Constans in the period AD 337-438. It is probable that most of the archaeological features investigated in this area date to the mid to late fourth century.
When this evidence is considered together with the results of a geophysical survey conducted early in 1996, it can be suggested that the road corridor passes through the edge of a Romano-British settlement centred on the crest of the low hill to the east. The alignment of a substantial late Roman ditch was followed by the modern parish boundary.
Item Type:
Client Report
Uncontrolled Keywords:
Romano-British, Settlement, Roman coin, roman coin, Fen Ditton, fen ditton, Teversham, teversham, Cambridgeshire, cambridgeshire, Archaeological excavation, excavation, Excavation, archaeological evaluation, Evaluation, evaluation, road corridor, Roman pottery, roman pottery, coin, pottery, Pottery, pot, ceramic vessel, sherd, Roman, roman, ditch, post hole, gully, structure, timber structure, timber building, chalk platform, platform, phased site, late roman, Emperor Constans, fourth century, 4th century, boundary ditch, parish boundary, A1303, settlement, Roman settlement, roman settlement, structure, building, 143, report 143, Report 143, CCCAFU report 143
Subjects:
Geographical Areas > English Counties > Cambridgeshire
Period > UK Periods > Roman 43 - 410 AD
Depositing User:

Archives

Date Deposited:
28 Aug 2018 07:56
Last Modified:
21 Jan 2021 10:53
URI:
http://eprints.oxfordarchaeology.com/id/eprint/4143
Actions (login required)