Leith, S. (1997) Late Iron Age, Roman and Medieval Enclosures and Settlement Features at Highfield, Caldecote: An Archaeological Excavation. [Client Report] (Unpublished)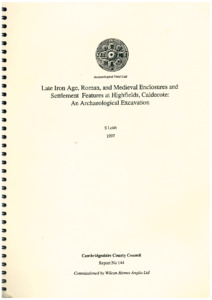 Preview
PDF




CCCAFU_report144.pdf


Available under License Creative Commons Attribution Share Alike.
Download (48MB) | Preview
Abstract
In November and December 1996, Cambridgeshire County Council's Archaeological Field Unit undertook excavation in an arable field to the west of Highfields, south of Caldecote Community School, at TL 349 583. The work was commissioned by Wilcon Homes Anglia Ltd in advance of a proposed housing development. It represented the second phase of archaeological investigation of the site. Earlier evaluation (Oakey 1996) had highlighted the presence of archaeological remains here, as well as assessing the archaeological potential of two nearby fields.
Six open areas were excavated to investigate archaeological features revealed during the preceding evaluation. Evidence for four main periods of activity was recovered: Late Iron Age, Roman, medieval, and post-medieval. Late Iron Age activity had not been predicted from the evaluation results, yet rectilinear ditched enclosures were revealed in Area 1 belonging to at least three phases of activity. They probably had an agricultural function, perhaps control of livestock. A possible post-built structure in Area 2 appeared to pre-date a further Late Iron Age ditch. These features contained a small amount of pottery and animal bone.
A Roman field system identified during the evaluation was also investigated. Several phases of ditch were recorded, indicating that the field system remained in use over a considerable period of time. The pottery recovered from these ditches spanned the 2nd to 4th centuries AD, and was concentrated towards the north of the investigation area. There was little evidence of direct continuity between Late Iron Age and Roman use of the site, and it is suggested that the focus of occupation had shifted to an area immediately to the north of the investigation area by the Roman period.
An area of early medieval activity was located in the south-east corner of the site. This was represented by a boundary ditch, a possible fence line running beside the ditch, several pits, and part of a timber structure constructed with post-in-trench foundations. These features produced pottery, some bone, daub fragments, and a few small fragments of lava quernstone. This evidence may suggest the presence of a small settlement of early medieval date, hitherto unknown, clustered on either side of the Highfields road. Post-medieval activity on the site was represented by postholes marking a fence line.
Excavation of an Iron Age settlement revealed in Field B by the initial evaluation is scheduled to take place within the next three to four years.
Item Type:
Client Report
Uncontrolled Keywords:
Highfields, Caldecote, Cambridgeshire, Archaeological excavation, Late Iron Age, Roman, Medieval, Roman pottery, field system, boundary ditch, fence line, pit, timber structure, post-in-trench foundation, pottery, early medieval pottery, animal bone, daub, quern stone, lava, lava quern, rectilinear ditched enclosure, rectilinear ditched enclosures, post-built structure, iron age pottery, agriculture, livestock, settlement, occupation, 144, report 144, excavation
Subjects:
Geographical Areas > English Counties > Cambridgeshire
Period > UK Periods > Iron Age 800 BC - 43 AD > Late Iron Age 100 BC - 43 AD
Period > UK Periods > Medieval 1066 - 1540 AD
Period > UK Periods > Post Medieval 1540 - 1901 AD
Period > UK Periods > Roman 43 - 410 AD
Depositing User:

Archives

Date Deposited:
28 Aug 2018 08:03
Last Modified:
10 Sep 2018 10:03
URI:
http://eprints.oxfordarchaeology.com/id/eprint/4144
Actions (login required)