Connor, Aileen (1998) Bronze Age, Iron Age and Roman Remains at Butt Lane, Milton Area A: Summer 1997 Training Excavation. [Client Report] (Unpublished)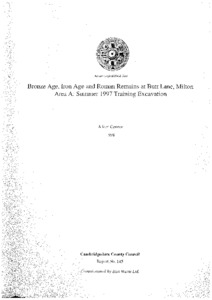 Preview
PDF




CCCAFU_report145.pdf


Available under License Creative Commons Attribution Share Alike.
Download (6MB) | Preview
Abstract
Area A at Milton Landfill Site was archaeologically excavated between 14th July and 23rd August 1997. The work was undertaken by trainees under the direction and Supervision of Cambridge County Council Archaeological Unit (AFU) staff.
Milton lies to the north of Cambridge and the Landfill site is situated between the A14 Trunk and Butt Lane. Area A is located within the proposed Landfill Site at TL 5461 2626.
The excavation area was 45m north-south by 40m east-west with a T-shaped trench extension on the eastern edge.
The site as characterised by features representing small timber structures, several pits, a quarry, ditches, a possible trackway and a possible buried soil. Small quantities of pottery were recovered from the possible buried soil and structures in the southern part of the site dating to the Middle Bronze Age. Of particular interest is the Milton East Waste site regional importance for this period. Post hole structures dated to the late Iron Age are much less coherent but a number of other features including ditches and pits can also be attributed to this period. The ditches may represent a trackway on an east-west orientation. Evidence for occupation continuing into the Roman period comes from an area of quarry pitting (possibly associated with the construction of Mere Way, (Akeman Street, a Roman Road to the west of the excavation) at the northern edge of the site and from parallel ditches which may represent the continuity of the possibly Iron Age trackway.
Item Type:
Client Report
Uncontrolled Keywords:
Butt Lane, Milton, Area A, Cambridgeshire, training excavation, Iron Age, Bronze age, Roman, Structure, pit, quarry, ditch, trackway, buried soil, middle bronze age, Mere Way, Akeman Street, post hole, late iron age
Subjects:
Geographical Areas > English Counties > Cambridgeshire
Period > UK Periods > Bronze Age 2500 - 700 BC
Period > UK Periods > Iron Age 800 BC - 43 AD
Period > UK Periods > Iron Age 800 BC - 43 AD > Late Iron Age 100 BC - 43 AD
Period > UK Periods > Bronze Age 2500 - 700 BC > Middle Bronze Age 1600 - 1,000 BC
Period > UK Periods > Roman 43 - 410 AD
Depositing User:

Archives

Date Deposited:
21 Aug 2018 14:21
Last Modified:
21 Aug 2018 14:21
URI:
http://eprints.oxfordarchaeology.com/id/eprint/4145
Actions (login required)