Brady, Kate Ruskin Hall, Dunstan Road, Oxford Archaeological Evaluation and Watching Brief Report. [Client Report] (Unpublished)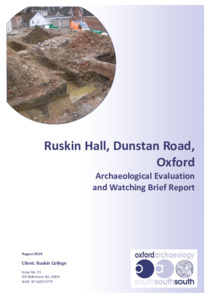 Preview
PDF




OXRU10.pdf


Download (3MB) | Preview
Abstract
Oxford Archaeology undertook an evaluation and a watching brief within the
Headington grounds of Ruskin College on behalf of the College prior to
redevelopment. This took the form of the excavation of four trial trenches to
investigate the impact areas of a new extension to Grade II listed Rookery, and
a watching brief on service trenches associated with the development. The
combined works identified a possible Roman ditch and a variety of postmedieval
features and structures to the west of The Rookery. The Roman ditch
is consistent with previous discoveries along the western fringe of the college
grounds suggesting occupation along a raised finger of land. The walls
probably represent the remains of an ancillary building or garden walls and a
coal cellar. The finds suggest that the features are contemporary with the use
of The Rookery, which was built in the 17th century, and pre-date the 20th
century. The service trenches and evaluation trenches to the east of The
Rookery revealed features relating to water management of 17th- to 19thcentury
date, including several lengths of culvert, a well and a possible
cistern/tank. At least one of the culverts is likely to relate to the primary or
early phases of construction of The Rookery.
Actions (login required)