Kemp, S. and Spoerry, Paul (1998) Evaluation of Iron Age, Roman and Saxon Archaeology at the Proposed Wellcome Trust Genome Centre Campus Extension, Hinxton Hall, Hinxton, Cambridgeshire. TL500433. [Client Report] (Unpublished)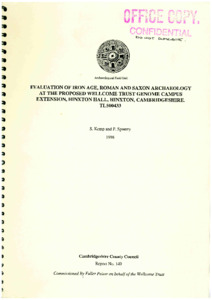 Preview
PDF




CCCAFU_report149(1998)_LR.pdf


Available under License Creative Commons Attribution Share Alike.
Download (50MB) | Preview
Abstract
Evaluation trenching was carried out in January and February 1998 on the site of the proposed Wellcome Trust Genome Centre Campus Extension, Hinxton Hall, Hinxton, Cambridgeshire. Archaeological field evaluation confirmed the survival of archaeological features, many of which had previously been identified from cropmarks and geophysical survey data. The evaluation showed that these remains mostly date from the late Iron Age through to the late Saxon periods.
The earliest archaeology present within the development area consists of a general background scatter of Neolithic, Bronze Age and Iron Age flint work which lies within the topsoil or later archaeological features. The earliest farmstead comprising post built structures, pits, boundaries, midden deposits infilling ditches and enclosures. Early Romano-British archaeology continues the Iron Age land use pattern, although at a later date in the period pitting and quarrying for the extraction of sands and gravels occurs along the riverside. Land to the east appears to continue as a zone of agricultural activity.
During the late Saxon, and possibly earlier, a discrete zone of pitting occurs along the riverside within the smaller of the Iron Age enclosures. Trackways from the Saxon settlement at Hinxton Hall link the two activity areas.
The evaluation has helped to identify important elements of the Iron Age , Roman and Saxon landscapes which, if studied in greater detail will help us to understand the activity zones, their inter-relationships and their temporal and spatial transformations.
Item Type:
Client Report
Uncontrolled Keywords:
iron age, roman, saxon, Hinxton Hall, hinxton, cambridgeshire, archaeological evaluation, midden, Iron Age farmstead, post built structure, pit, boundary, midden deposit, ditch, enclosure ditch, quarrying, quarry pit, sand and gravel extraction, agriculture, field system, worked flint, lithics, late prehistoric, early medieval, pottery, cropmarks, geophysical survey, wellcome trust, report 149, CCCAFU report 149, genome campus
Subjects:
Geographical Areas > English Counties > Cambridgeshire
Period > UK Periods > Bronze Age 2500 - 700 BC
Period > UK Periods > Early Medieval 410 - 1066 AD
Period > UK Periods > Iron Age 800 BC - 43 AD
Period > UK Periods > Iron Age 800 BC - 43 AD > Late Iron Age 100 BC - 43 AD
Period > UK Periods > Medieval 1066 - 1540 AD
Period > UK Periods > Neolithic 4000 - 2200 BC
Period > UK Periods > Roman 43 - 410 AD
Depositing User:

Archives

Date Deposited:
28 Aug 2018 08:17
Last Modified:
29 Aug 2018 13:03
URI:
http://eprints.oxfordarchaeology.com/id/eprint/4150
Actions (login required)