Roberts, Judith (1998) Iron Age and Medieval Activity at Blackhorse Lane, Swavesey. [Client Report] (Unpublished)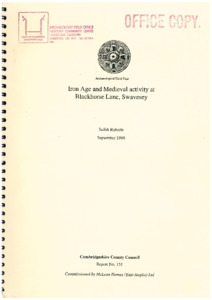 Preview
PDF




CCCAFU_report151.pdf


Available under License Creative Commons Attribution Share Alike.
Download (72MB) | Preview
Abstract
In July and August the AFU conducted an archaeological evaluation on land previously occupied by engineering works. The evaluation was designed to examine the disturbance to underlying archaeological remains caused by construction of industrial buildings in the 1960s, to determine the extent of surviving archaeological remains and the general sequence and periods of activity, to determine the line of the town ditch suggested by earlier work in Swavesey and investigate the possibility of street front properties extending along the High Street at the entrance to the development site.
The trenches in the northern part of the site (on the better drained gravel island) revealed a considerable density and complexity of archaeological features dating to late Iron Age, late Saxon, Saxo-Norman and medieval periods. Those trenches which extended beyond the gravel island onto the water land in the southern part of the site showed a lack of archaeological features.
The trench close to the High Street revealed a re-cut ditch along the street front which corresponds to a drain shown on early nineteenth century maps. Other trenches in the southern and western part of the site revealed a substantial ditch crossing the site from trench 12. This ditch was identified in a trench dug in 1997 continuing northwards beyond the present site and here it appears to represent a continuation of the defensive line of the castle bailey which lies adjacent and to the north. The ditch may therefore be the line of the medieval town ditch.
Item Type:
Client Report
Uncontrolled Keywords:
Blackhorse Lane, Swavesey, Cambridgeshire, archaeological evaluation, Iron Age, Medieval, early medieval, saxon, anglo-saxon, gravel island, ditch, drain, defensive ditch, bailey, town ditch, 151, report 151, CCCAFU report 151
Subjects:
Geographical Areas > English Counties > Cambridgeshire
Period > UK Periods > Iron Age 800 BC - 43 AD
Period > UK Periods > Medieval 1066 - 1540 AD
Depositing User:

Archives

Date Deposited:
29 Aug 2018 19:12
Last Modified:
29 Aug 2018 19:12
URI:
http://eprints.oxfordarchaeology.com/id/eprint/4153
Actions (login required)