Oakey, Niall and Connor, Aileen (1999) Medieval Properties, Excavations at Lisle Lane, Ely, 1995-6. [Client Report] (Unpublished)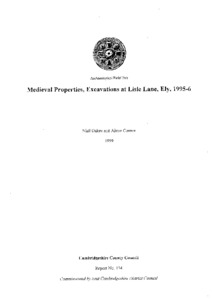 Preview
PDF




CCCAFU_report154_LR.pdf


Available under License Creative Commons Attribution Share Alike.
Download (5MB) | Preview
Abstract
Excavation was carried out by the Archaeological Field Unit of Cambridgeshire County Council at the corner of Lisle Lane and Cresswell's Lane, Ely during 1995. The excavation comprised two stages; initial evaluation followed by excavation.
The surviving archaeological deposits, artefacts and ecofacts have been analysed and interpreted as follows; The site at the corner of Lisle Lane and Cresswell's lane was the subject of domestic activity during the 12th to 14th centuries. This period saw the introduction of property boundaries aligned with and perpendicular to Lisle Lane possibly coinciding with an early pit digging phase. A building was erected which partially encroached on the site and pit digging, possibly associated with the building, intensified. The building probably continued to be occupied whilst changes were made to the adjacent, possibly conected property. Pits were backfilled and replaced by a trackway leading from Lisle Lane towards a damp, muddy area which was used as a midden, collecting discarded property, animal bone and objects which may have been carted there from elsewhere in town.
To the west of the track, parts of three possible properties were identified. This probably fronted Lisle Lane. If any associated buildings had existed they were not identified, possibly because they were located outside the site boundaries along the Lisle Lane frontage. Slight changes in these property boundaries were noted subsequent to the backfilling of a ditch boundary contemporary with the trackway falling into disuse and a final phase of pitting cut into the former track.
After the mid 14th century the site underwent no further building activity until the 18th or 18th century when a cottage was built.
Item Type:
Client Report
Uncontrolled Keywords:
Lisle Lane, Ely, Cambridgeshire, Medieval, Archaeological evaluation, archaeological excavation, medieval building, domestic building, building, structure, medieval, ely, cambridgeshire, domestic activity, artefact, ecofact, pit, boundary, property boundary, trackway, midden, animal bone, animal remains, faunal remains, pottery, medieval pottery, ditch, cottage, post-medieval, post medieval, cresswells lane, Cresswells Lane, 154, report 154, CCCAFU report 154
Subjects:
Geographical Areas > English Counties > Cambridgeshire
Period > UK Periods > Medieval 1066 - 1540 AD
Period > UK Periods > Post Medieval 1540 - 1901 AD
Depositing User:

Archives

Date Deposited:
29 Aug 2018 19:42
Last Modified:
22 Oct 2018 13:02
URI:
http://eprints.oxfordarchaeology.com/id/eprint/4158
Actions (login required)