Hinman, Mark (2002) Deeply Stratified Medieval and Post-Medieval Remains at Market Mews, Wisbech. [Client Report] (Unpublished)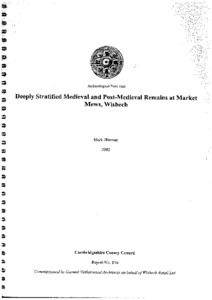 Preview
PDF




CCCAFU_report156_LR.pdf


Available under License Creative Commons Attribution Share Alike.
Download (37MB) | Preview
Abstract
Between 19/06/96 and 27/06/96 the Archaeological Field Unit (AFU) of Cambridgeshire County Council carried out an archaeological evaluation at the junction of Market Mews and Little Church Street, Wisbech (TF 4630/0969). The work was commissioned by Garnett Netherwood Architects on behalf of Wisbech Retail Ltd. / Bilsdale Properties and was carried out within the terms of a brief set by the County Archaeology office (Development Control; Louise Austin: Design brief for archaeological evaluation at Market Mews, 1996).
As a result of the evaluation a limited programme of emergency excavation revealed an impressive sequence of deeply stratified medieval and post medieval deposits. The stratigraphic sequence contained conclusive evidence for metalworking activity in addition to at least thirteen distinct building phases, the earliest of which was dated to the thirteenth century. Floors associated with these buildings were sealed by extensive accumulations of fine silts deposited during episodic flooding. Organic preservation throughout the sequence was good with the best preservation seen towards the bottom of the sequence. Despite excavation in excess of 3.00m below the current ground surface, no natural geology was encountered and there was every indication that the archaeological sequence continued below this level.
The excavation represents the most comprehensive sample of medieval archaeology ever recorded on Wisbech. Such information will be of great significance to both the research of this important Fenland Town, and to the medieval fenland as a whole. In addition, the extensive sequence of episodic flooding and occupation is, although comparable to deposits in other fenland port towns, almost without parallel in its completeness, depth and state of preservation. The discovery of such an important archaeological resource cannot be overstated and consideration needs to be given to the future management of the archaeological heritage of Wisbech.
Actions (login required)