Connor, Aileen (1999) Iron Age Settlement and Agriculture at Butt Lane, Milton: Training Excavation 1998. [Client Report] (Unpublished)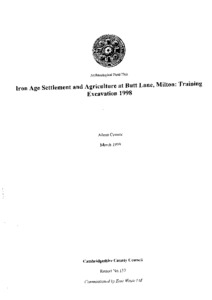 Preview
PDF




CCCAFU_report157_LR.pdf


Available under License Creative Commons Attribution Share Alike.
Download (8MB) | Preview
Abstract
Area C at Milton Landfill Site was archaeologically excavated between July and August 1998. The work was undertaken by trainees under the direction and supervision of Cambridgeshire County Council Archaeology Field Unit (AFU) staff.
Milton lies to the north of Cambridge and the Landfill Site is situated between the A14 Trunk road and Butt Lane. Area C is located within the proposed Landfill Site at TL 461/692. A temporary benchmark was set up on the site at 12.43m OD, based on the landfill site gas burner benchmark which is at 11.60m OD.
The excavated area was 45m north-south by 45m east-west with a 5mx5m extension along the southern edge and eleven trenches outside the main area to the east, west and south.
The site was characterised by features representing small timber structures, intercutting pits, and, perhaps most significantly a series of parallel ditches leading to a perpendicular ditch at the southern edge of the excavation. Stratigraphically the site showed three phases in the Iron Age and subsequent use in medieval periods.
Middle Iron Age pottery was recovered from most feature type, and the stratigraphic sequence of features can be dated by this pottery.
Phase 1 was an earlier middle Iron Age occupation phase indicated by the presence of at least one timber building, possibly associated with several pits, containing general rubbish including large unabraded middle Iron Age pottery and animal bones.
Phase 2 appears to have included land clearance of buildings and other occupation material in preparation for intensive cultivation. The exact nature of the cultivation is unclear. A series of closely spaced, regular, parallel, ditches on an approximately north-south alignment leading towards a perpendicular ditch on an approximately east west alignment suggests the possibility of drainage, irrigation, lazy beds or planting trenches. Only small, abraded sherds of possibly middle Iron Age pottery were recovered from the excavated ditch fills.
Phase 3 consisted of two pits post dating the ditch system, each containing Iron Age pottery, and a small post or stake hole from which a 1st century Colchester type brooch was recovered.
Very little evidence for a Romano-British presence was found on the site despite its close proximity to Roman Akeman Street.
Evidence for a medieval ridge and furrow system and later land drains complete the archaeological sequence.
Item Type:
Client Report
Uncontrolled Keywords:
Butt Lane, Milton, milton, Cambridgeshire, cambridgeshire, Iron Age, iron age, Iron Age Settlement, iron age settlement, Archaeological Excavation, training, Training, Iron Age Pottery, Colchester Brooch, settlement, iron age, milton, cambridgeshire, iron age pottery, pottery, training excavation, ditch, parallel ditches, pit, intercutting pits, timber structure, structure, medieval, 157, report 157, Repoty 157, CCCAFU report 157, brooch, colchester type, archaeological excavation, volunteers, perpendicular ditch, Middle Iron Age pottery, middle iron age pottery, Middle Iron Age, middle iron age, animal remains, animal bone, bone, cultivation, agriculture, farming, ridge and furrow, medieval, Medieval, land drain, field drain
Subjects:
Geographical Areas > English Counties > Cambridgeshire
Period > UK Periods > Iron Age 800 BC - 43 AD
Period > UK Periods > Medieval 1066 - 1540 AD
Period > UK Periods > Iron Age 800 BC - 43 AD > Middle Iron Age 400 - 100 BC
Depositing User:

Archives

Date Deposited:
30 Aug 2018 11:28
Last Modified:
22 Oct 2018 19:24
URI:
http://eprints.oxfordarchaeology.com/id/eprint/4160
Actions (login required)