Malim, Tim Fulbourn Manor Estate: An Archaeological Survey. [Client Report] (Unpublished)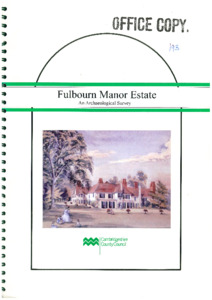 Preview
PDF




CCCAFU_report193.pdf


Available under License Creative Commons Attribution Share Alike.
Download (171MB) | Preview
Abstract
An Archaeological survey of Fulbourn Manor Estate (TL 520560/542559) from 1999-2001 used documentary evidence and cartographic sources, together with field work, to produce a comprehensive statement on the archaeological importance of this area, with recommendations for its long-term investigation and management.
The estate includes part of one scheduled monument (Fleam Dyke), a number of listed buildings and associated structures, a locally designated informal park, two Sites of Special Scientific Interest, and a Nature Reserve with wide public access and educational potential. A mixture of landuse is practised including arable, pasture, woodland and game management, and recreational use.
In addition to the 18 archaeological sites already known from the estate the survey has identified five new ones including substantial and well-preserved earthworks within woodland (TL 527 559). A large corpus of metalwork collected a decade ago has been catalogued and recorded, and includes Iron Age - post-medieval objects, some of considerable local significance. Finds and sites of all periods from the Mesolithic to post-medieval have been discovered, including a focus of activity near Shardelowes Well, and the junction of the prehistoric and Roman route of Street Way and the northern end of Fleam Dyke (TL 537 563). This area includes a possible villa, and brooches of both Iron Age and Anglo-Saxon date suggest the probability of transition between periods at the beginning and end of the Roman Times.
Cropmarks of two moated sites have been identified and correlated to historical records for Colvilles and Shardelowes Manors (TL 526560, 527557), and a third moat, which survives as an earthwork, has been identified as Dunmowes Manor. The concentration of the moats, the mill, and earthworks within woodland around the fen edge area of the Nature Reserve suggests the presence of a shifted medieval village, the main part of which can now be found further west near the present church of St Vigor. This is also the location of the present Manor (TL 521 562) and Old Manor, which both date from the 16th century, and the present survey also includes some building recording work. Of particular note was the discovery of an ornately patterned timber-frame gable end to the Old Manor, unparalleled within the region, and the tentative suggestion that the Park was created between the late 16th - mid 18th centuries.
The evidence for a long-lived settlement near Shardlowes Well, on Street Way and beside Fleam Dyke could suggest exploitation of the economic advantage given by a strategic location at the junction of different routes and boundaries, and a well-head to Wilbraham River. In the Medieval period the focus of settlement shifted further west, to an area which gave rise to the village name (fugol-burna 'stream frequented by birds'), but this in turn was subsequently abandoned in favour of a further shift in settlement to the west of the centre of the present village, and to the area around Fulbourn Manor itself.
Actions (login required)