Kemp, S. N. (1999) A Middle Iron Age Site at Granta Park, Great Abington, Cambridgeshire. [Client Report] (Unpublished)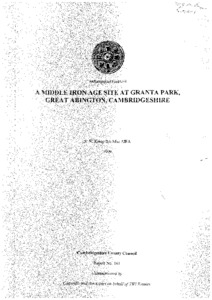 Preview
PDF




CCCAFU_report161_LR.pdf


Available under License Creative Commons Attribution Share Alike.
Download (18MB) | Preview
Abstract
During March 1998 the Archaeological Field Unit of Cambridgeshire County Council excavated a 0.45ha area within The Welding Institute's proposed Granata Park development. This work was funded by the TWI Estates and followed three previous campaigns to investigative work which defined the archaeological potential of the development site. The process of systematic investigation highlighted the importance of a small area of land were middle Iron Age settlement remains were known to lie.
Excavation of the 0.45ha area revealed over sixty middle Iron Age pits of which 70% were excavated. Mesolithic, Neolithic, and Bronze Age activities in the excavation area were also recognised.
Excavations were able to distinguish both the initial purpose of the middle Iron Age pits, which appear to have been for grain storage, and the reason for their abandonment. Rising ground water levels meant that many of the riverside pits became damp and no longer suitable for their original purpose. At least four phases of pit digging and infilling have been identified which include pottery and knives, showing that a series of rites were undertaken to indicate a change in function for this piece of land. Subsequent to these activities the pits were backfilled with midden deposits consisting of hearth fragments, animal bones and pottery which suggest occupation areas were at no great distance from the excavated area. This settlement did not lie within the evaluation area and therefore must have lain to the east. It has either ben quarried away or lies beneath the existing buildings of the Welding Institute.
The association of Iron Age rituals with the pits was not a singular event at this site. A sheep/goat burial in another pit was an example of earlier ritual episodes and it is possible that the re-excavation of pits in antiquity may have removed other events. Excavations also showed that ritual deposition at this site had a long tradition as similar deposit was found which dated to the late Bronze Age.
Item Type:
Client Report
Uncontrolled Keywords:
Great Abington, great abington, granta park, Granta Park, Cambridgeshire, cambridgeshire, archaeological excavation, Archaeological Excavation, excavation, iron age, Iron Age, Mesolithic, mesolithic, Neolithic, neolithic, Bronze Age, bronze age, iron age knife, knife, iron knife, ritual sheep burial, animal remains, animal bone, bone, middle iron age, Middle Iron Age, pottery, iron age pottery, middle iron age pottery, Pottery, Iron Age Pottery, Iron Age pottery, Middle Iron Age Pottery, Middle Iron Age pottery, pit, pits, ritual deposition, Late Bronze Age, late bronze age, hearth fragments, hearth fragment, Hearth Fragment, fired clay, Fired Clay, palaeochannel, Palaeochannel, palaeochannels, Palaeochannels, ditch, ditches, placed deposit, Bronze Age pottery, bronze age pottery, awl, knapping debris, lithic implement, lithic implements, worked flint, flint, tool, flint tool, post hole, Post Hole, posthole, roman, Roman, boundary, boundary ditch, roman boundary ditch, Roman boundary ditch, drainage ditch, medieval, post-medieval, Medieval, Post-medieval, mixed farming, cattle, sheep, pig, pigs, horse, horses, river granta, River Granta, Granta, granta, white-tailed eagle, talon, burin, arrowhead, scraper, 161, report 161, Report 161, CCCAFU report 161, cpr, CPR, charred plant remains
Subjects:
Geographical Areas > English Counties > Cambridgeshire
Period > UK Periods > Bronze Age 2500 - 700 BC
Period > UK Periods > Bronze Age 2500 - 700 BC > Early Bronze Age 2500 - 1500 BC
Period > UK Periods > Iron Age 800 BC - 43 AD
Period > UK Periods > Neolithic 4000 - 2200 BC > Late Neolithic 2700 - 2200 BC
Period > UK Periods > Medieval 1066 - 1540 AD
Period > UK Periods > Mesolithic 10,000 - 4,000 BC
Period > UK Periods > Iron Age 800 BC - 43 AD > Middle Iron Age 400 - 100 BC
Period > UK Periods > Neolithic 4000 - 2200 BC
Period > UK Periods > Palaeolithic 500 000 - 10 000 BC
Period > UK Periods > Roman 43 - 410 AD
Depositing User:

Archives

Date Deposited:
22 Oct 2018 12:32
Last Modified:
22 Oct 2018 12:32
URI:
http://eprints.oxfordarchaeology.com/id/eprint/4165
Actions (login required)