Casa-Hatton, R. and Wall, W. (1999) A Late Roman Cemetery Beside the A1 near Durobrivae (Water Newton): Archaeological Recording. [Client Report] (Unpublished)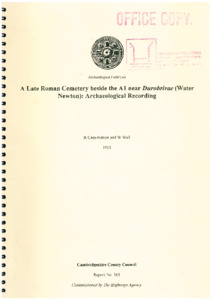 Preview
PDF




CCCAFU_report165.pdf


Available under License Creative Commons Attribution Share Alike.
Download (83MB) | Preview
Abstract
In June 1998, during maintenance works along the A1 trunk road near Water Newton, Cambridgeshire, human bones and two stone coffins were exposed in the sides of a road-side drainage ditch opposite the site of the Roman town of Durobrivae (known as 'The Castles). Between 4th and 20th June 1998, staff of the Archaeological Field Unit of Cambridgeshire County Council undertook archaeological recording work on a stretch of the drainage ditch, which lay in Chesterton Parish, Cambridgeshire, at TL 1221 9655, some 1500m to the south-east of the modern village of Water Newton. The burials appeared to represent a small portion of a late Romano-British cemetery which has long been known to exist outside the south-west gate of Durobrivae.
The disturbed deposits consisted of inhumations of at least 57 individuals of both sexes and all ages down to infancy. The bodies lay on a variety of alignments. Some had been placed in wooden containers (as suggested by the recovery of iron nails) and stone coffins, with possible instances of stone-packing. At least two cases of decapitation were recorded. Coins and fragments of animal bone were also found which may have represented items of furnishing and food offering respectively.
The burials were mostly unfurnished, with the exception of one which was accompanied by copper alloy and ivory armlets and amber and glass beads from a necklace. A black glass bead in this assemblage, with a white zigzag trail on its surface , was of Frankish origin and probably did not arrive in Britain until the early years of the 5th century. A conservative date range of c AD 390-420 may therefore be offered for this inhumation.
Besides the burials, evidence also emerged for earlier Roman agricultural activity in the form of parallel ditches.
Finally, the presence of headlands (associated with original ridge and furrow) in the field to the west of the ditch suggests that the site reverted to agricultural use sometime in the course of the medieval/post-medieval periods.
Actions (login required)