Roberts, Judith An Earthwork Enclosure at Granham's Farm, Great Shelford, Cambridgeshire (TL 465 532): An Archaeological Evaluation. [Client Report] (Unpublished)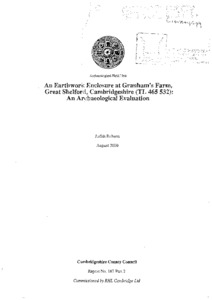 Preview
PDF




CCCAFU_report167_prt2_LR.pdf


Available under License Creative Commons Attribution Share Alike.
Download (2MB) | Preview
Abstract
During July and August 2000 (following a geological survey in May 2000), five evaluation trenches were excavated through the earthwork enclosure at Graham's Farm, Great Shelford (TL 465 532). The investigation was to try to date the earthwork and to examine any related activity on the interior and exterior of the enclosure. The Work was commissioned by RHL Cambridge Ltd in advance of a Planning application and following evaluation in the surrounding area in 1999.
The enclosure ditch was approximately 7-9m wide and over 1.5m deep, decreasing in width towards its western end. It was steep sided with a flat base, and waterlogged organic fills were preserved in basal levels. Parts of the surviving bank were over 2.3m wide and survived to a height of up to 0.4m. The total width of the bank varied between 5-6m wide and 0.42-0.58m high.
Late Roman remains were found under the bank and it would appear that the digging of the enclosure ditch cut earlier features. The earthwork, therefore, is post-Roman in date but its attribution to a particular period remains uncertain. Wood preserved in waterlogged conditions, and samples taken from environmental analyses, could be used to achieve a more precise date though independent, scientific dating methods. Undated features were found in the interior of the enclose, sealed beneath up to 0.5m of soil. Externally some more ephemeral features were discovered beneath topsoil 0.26m deep. These had been truncated by narrowly spaced plough furrows.
Actions (login required)