Bray, Simon (1998) Land off Oundle Road, Alwalton, Peterborough: An Archaeological Evaluation. [Client Report] (Unpublished)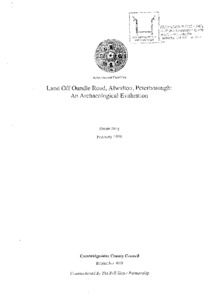 Preview
PDF




CCCAFU_report B19.pdf


Available under License Creative Commons Attribution Share Alike.
Download (1MB) | Preview
Abstract
In January 1998 the Archaeological Field Unit of Cambridgeshire County Council (AFU) evaluated 2.53 hectares of pasture land in the parish of Alwalton, Peterborough (TL 1370 9584).
The works revealed no archaeological activity earlier than ridge and furrow agriculture. This was discovered aligned in at least three directions, east to west, north-west to south-east and north-north-west to south-south-east,in divisions of land known as gores. To the north-east of the development area a large possible pond or low-lying swampy area was identified. Artefacts recovered from this feature suggest a 20th century date for its infilling.
Despite the minimal results, the evaluation has enhanced our knowledge of the landscape around Peterborough, suggesting that in the area of the site, only low levels of activity took place. Although the site was ploughed in the Middle Ages, before this it may have simply been pasture, wasteland or open space.
Item Type:
Client Report
Uncontrolled Keywords:
archaeological evaluation, cambridgeshire, peterborough, alwalton, report B19, ridge and furrow, medieval, pond, morass, swamp, backfill, infill, 20th century, modern, pasture, agriculture, B19, b19, report b19
Subjects:
Geographical Areas > English Counties > Cambridgeshire
Period > UK Periods > Medieval 1066 - 1540 AD
Period > UK Periods > Modern 1901 - present
Depositing User:

Hamilton

Date Deposited:
13 Aug 2018 14:35
Last Modified:
28 Aug 2018 21:04
URI:
http://eprints.oxfordarchaeology.com/id/eprint/4174
Actions (login required)