Hatton, Andrew and Hinman, Mark (2000) A Medieval Ditch and Earlier Features on Land Adjacent to Hauxton Road, Trumpington, Cambridge. [Client Report] (Unpublished)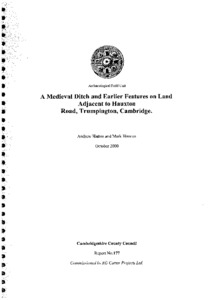 Preview
PDF




CCCAFU_report177.pdf


Available under License Creative Commons Attribution Share Alike.
Download (7MB) | Preview
Abstract
Between the 6th March 2000 and the 29th March 2000, an archaeological excavation was carried out on two areas on a parcel of land at located at the junction of Hauxton Road/Maris Lane, Trumpington by the Cambridgeshire County Council Archaeological Field Unit.
The first phase of the activity took the form of a series of narrow ditches and postholes on north/south and east/west alignments, which divide the landscape into enclosed areas, and a number of pits. These early fenced enclosures were superseded by larger, more complex, ditched enclosures, which may have been used for the keeping of livestock in phase 2. The paucity of artefactual evidence from the first two phases of the enclosure system does not allow for an accurate date but residual Roman pottery and Niedermendig lava-quern suggests an early or middle Saxon date can be suggested.
The third phase took the form of a large ditch of medieval date, which contained a decorated bone comb handle of the 14th century. The function of the ditch was not readily apparent due to its location at the edge of the site.
Item Type:
Client Report
Uncontrolled Keywords:
Cambridgeshire, Cambridge, Trumpington, Hauxton Road, Ditch, Post hole, Pit, Iron Age, Roman, Medieval, Post-Medieval, Romano-British Pottery, Animal Bone, Niedermendig Lava Quern, Saxon, Anglo-Saxon Pottery, Boundary Ditch, Curvilinear Ditch, Quarry Pit, Gully, Flint, Brick, Tile, Daub, Fired Clay, 177, report 177, cccafu report 177, CCCAFU report 177, cbm, CBM, ceramic building material, brick, tile, gully, fired clay, daub, flint, worked flint, lithics, early medieval, medieval, worked bone, comb, bone comb, comb handle, agriculture, field system, pottery, boundary ditch, roman, romano-british, lava quern, quern, worked stone, excavation, archaeological excavation
Subjects:
Geographical Areas > English Counties > Cambridgeshire
Period > UK Periods > Early Medieval 410 - 1066 AD
Period > UK Periods > Iron Age 800 BC - 43 AD
Period > UK Periods > Medieval 1066 - 1540 AD
Period > UK Periods > Post Medieval 1540 - 1901 AD
Period > UK Periods > Roman 43 - 410 AD
Depositing User:

Archives

Date Deposited:
10 Sep 2018 10:00
Last Modified:
10 Sep 2018 10:01
URI:
http://eprints.oxfordarchaeology.com/id/eprint/4184
Actions (login required)