Macaulay, Stephen (2001) Cambridgeshire Earthworks Report - 2001. [Client Report] (Unpublished)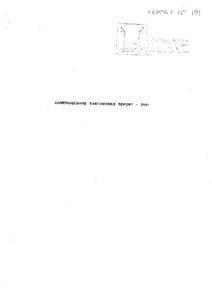 Preview
PDF




CCCAFU_report191_LR.pdf


Available under License Creative Commons Attribution Share Alike.
Download (1MB) | Preview
Abstract
In 2001 the Archaeological Field Unit of Cambridgeshire County Council undertook a desk-based study as part of the Cambridgeshire Monument Management Project (MMP) to enhance the selection strategy of sites to be considered for inclusion in the scheme. The Cambridgeshire MMP is a joint English Heritage and Cambridgeshire County Council project designed to enable and carry out pro-active management projects on significant archaeological monuments throughout the county.
A total of 981 earthwork records held by the County Sites and Monuments Record (SMR) were reviewed during this project. Of these the following recommendations for future management proposals were made. These fall into five categories; No 487, shortlist 372, check MMP review 17, No (already managed) 48, Renew MMP 5, Yes 52.
A number of known earthwork sites known to the author did not appear on the SMR search list. One of the conclusions of this report is to highlight the problem of SMR integrity. The SMR does not operate effectively as an inter-relational database, the most likely cause of this is the disparity of data entry over the years.
Actions (login required)