Oakey, N. and Kemp, Steve (1996) An Archaeological Assessment at Barford Road, Eynsbury. [Client Report] (Unpublished)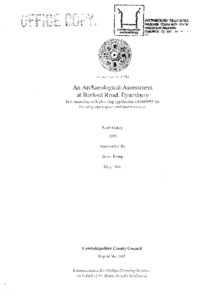 Preview
PDF




CCCAFU_reportA067.pdf


Available under License Creative Commons Attribution Share Alike.
Download (5MB) | Preview
Abstract
This study is designed to assess the archaeological potential of a site of approximately 40.9 hectares between Barford Road, Eynesbury and the River Great Ouse, allocated by the Huntingdonshire Local Plan for housing, open space and business uses.
Existing archaeological knowledge reveals that humans have been active in this environment since at least the Mesolithic period. Cropmarks show that existence of a substantial ritual landscape of the Neolithic and Bronze Age periods. Excavations on the periphery of the development area indicate that archaeological deposits associated with this period may have survived subsequent truncation by ploughing.
This survival is partly attributable to the protection afforded by alluvium deposited by successive flooding episodes from water courses and palaeochannels, some of which are apparent as cropmarks. Trackways and ditches of the Romano-British period cut into the top of this alluvium, but most earthworks including the medieval ridge and furrow have been obliterated by modern ploughing.
The site affected by the development proposal is shown to be of potential archaeological sensitivity and it is proposed that further evaluative work take place in order to closely define the nature and extent of surviving archaeological deposits. This will enable the formulation of a detailed mitigation strategy to minimise the damage done to the archaeology by the proposed development.
Item Type:
Client Report
Uncontrolled Keywords:
desktop survey, desk-based assessment, cambridgeshire, st neots, eynsbury, fieldwalking, documentary records, auger survey, aerial photography, archaeological potential, river ouse, great ouse, truncation, plough damage, Great Ouse, CCCAFU report A67, report A67, report a67, A67, a67
Subjects:
Geographical Areas > English Counties > Cambridgeshire
Period > UK Periods > Bronze Age 2500 - 700 BC
Period > UK Periods > Medieval 1066 - 1540 AD
Period > UK Periods > Mesolithic 10,000 - 4,000 BC
Period > UK Periods > Neolithic 4000 - 2200 BC
Period > UK Periods > Post Medieval 1540 - 1901 AD
Period > UK Periods > Roman 43 - 410 AD
Depositing User:

Hamilton

Date Deposited:
22 Aug 2018 10:52
Last Modified:
28 Aug 2018 19:51
URI:
http://eprints.oxfordarchaeology.com/id/eprint/4208
Actions (login required)