Abrams, Joe (2001) Roman Rubbish Pits and Post-Medieval Gravel Quarries on Land to the Rear of 20-28 London Road, Godmanchester: An Archaeological Evaluation. [Client Report] (Unpublished)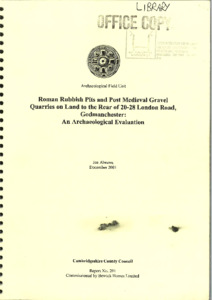 Preview
PDF




CCCAFU_report201_LR.pdf


Available under License Creative Commons Attribution Share Alike.
Download (3MB) | Preview
Abstract
An archaeological evaluation was carried out on land to the rear of 20-28 London Road (adjacent to Betts Close), Godmanchester, Cambridgeshire (TL 2473 7013) to inform the planning process in advance of the proposed construction of six dwellings. The field work was carried out by the archaeological Field Unit of Cambridgeshire County Council between 19th and 23rd November, 2001.
A total of three Trenches were excavated, 36.50m in length giving 5.3% sample of the development area. All three contained archaeological features. Two Roman rubbish pits were identified, from which sizeable assemblages of Roman pottery and good environmental evidence including fish bones, and cereals were recovered. A series of post-medieval quarry pits were observed, from which residual Roman pottery sherds were recovered along with post medieval artefactual evidence.
The subject site was 0.32m (northwest) - 0.82m (southeast) lower than the surrounding area. This evaluation revealed that this was due to post medieval grave quarrying. A series of sub rectangular pits had been cut in strips aligned northwest-southeast.
There was a complete absence of any human skeletal remains redeposited within the later quarry pits. This indicated that the known Romano-British cemetery present in the immediate area was set well back from London Road (Ermine Street). The eastern boundary of the cemetery can now be said to lie below Betts Close immediately adjacent to the subject site.
Actions (login required)