Abrams, Joe (2003) Late Saxon to Post-Medieval Activity at 2 West End, Ely: An Archaeological Excavation. [Client Report] (Unpublished)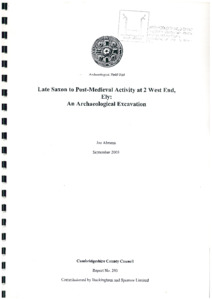 Preview
PDF




CCCAFU_report203.pdf


Available under License Creative Commons Attribution Share Alike.
Download (90MB) | Preview
Abstract
A archaeological excavation was conducted by the Cambridgeshire County Council Archaeological Field Unit (AFU) at 2 West End, Ely (TL 5362 8026) during September 2000. The work was undertaken on behalf of Buckingham and Sparrow Limited in advance of the construction of a proposed housing development.
Archaeological features spanning the Late Saxon to the post-medieval period were recorded in four areas (Areas A and D). Late Saxon and medieval pottery was recovered from ditches, pits, postholes, beamslots and dump layers, along with a small amount of pottery dating to the Romano-British period. An in situ ceramic drainpipe of probable 13th to 15th century date may indicate the presence of a building of relatively high status on the site at this time . Faunal remains provide limited evidence for the exploitation of sheep and cattle, as well as wild fowl, geese and fish. Plant remains include economic and wild taxa, indicating the character and usage of the local environment.
Monitoring by the AFU of the County Archaeology Office (CAO) recommended a mitigating strategy which recorded further medieval features, artefactual and environmental evidence to complement that from Excavation Area A and D.
Comparison with other sites within the vicinity including St Johns Road (Abrams 2001), Chief Street (Kenny 2001) and West Fen Road (Mortimer and Regan 2001), suggests that this site may lie on the southern boundary of the core of Late Saxon and medieval town.
Actions (login required)