Leith, Stephanie and Reynolds, Tim (1993) Hinxton Hall: An Archaeological Desktop Study. [Client Report] (Unpublished)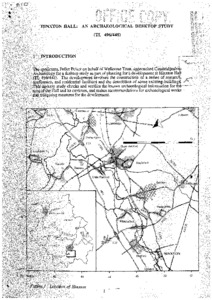 Preview
PDF




CCCAFU_reportA10.pdf


Available under License Creative Commons Attribution Share Alike.
Download (3MB) | Preview
Abstract
Cambridge Archaeology were approached by Fuller Peiser, on behalf of Wellcome Trust, for a archaeological desktop study as part of planning for a development at Hinxton Hall (TL 496/448). This desktop study checks and verifies the known archaeological information for the area of the Hall and its environs, and makes recommendations for archaeological and mitigating measures for the development.
Three areas are recommended for further investigation:
1) The Old Hinxton High Street area and associated building plots.
2) The southern edge of the site where archaeological features appear as cropmarks outside the park and may continue into the site.
3) Various earthworks within the park should be considered of archaeological importance.
Item Type:
Client Report
Uncontrolled Keywords:
Hinxton, Cambridgeshire, Archaeological desk-top assessment, Roman, Iron Age, Saxon, medieval, post medieval, Modern, modern, roman, iron age, hinxton, cambridgeshire, DBA, dba, desk-based assessment, A10, a 10, report A10, report a10, earthworks, wellcome trust, Wellcome Trust
Subjects:
Geographical Areas > English Counties > Cambridgeshire
Period > UK Periods > Early Medieval 410 - 1066 AD
Period > UK Periods > Iron Age 800 BC - 43 AD
Period > UK Periods > Medieval 1066 - 1540 AD
Period > UK Periods > Modern 1901 - present
Period > UK Periods > Post Medieval 1540 - 1901 AD
Period > UK Periods > Roman 43 - 410 AD
Depositing User:

Archives

Date Deposited:
30 Aug 2018 11:46
Last Modified:
30 Aug 2018 11:48
URI:
http://eprints.oxfordarchaeology.com/id/eprint/4243
Actions (login required)